There was no shortage of reactions from notable NBA stars as a whirlwind of blockbuster deals happened before the 2021 NBA Trade Deadline.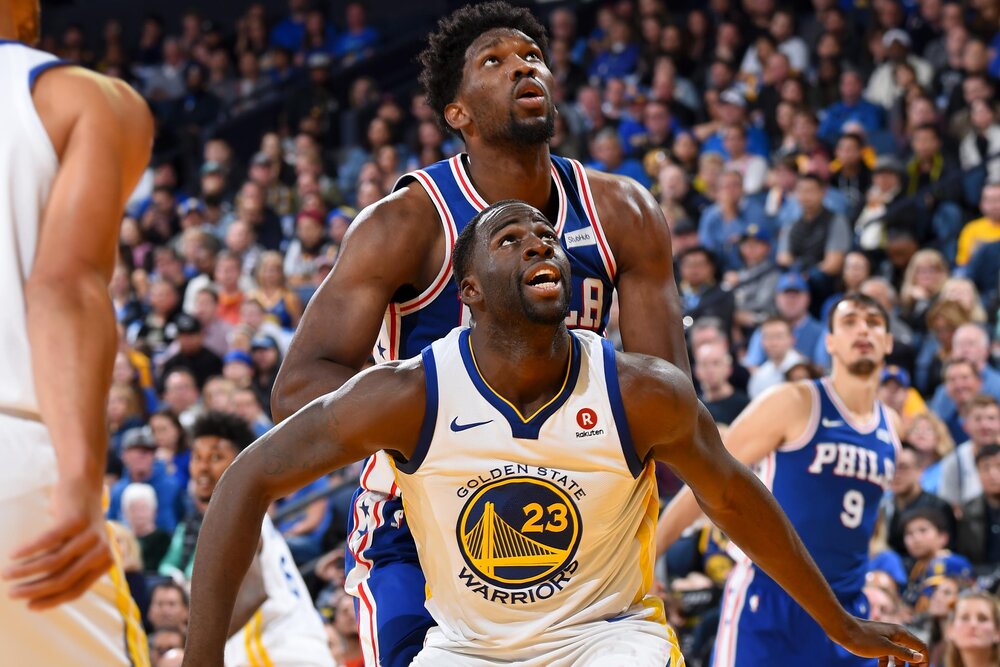 Draymond Green and Joel Embiid reacted to the blockbuster moves that happened during the 2021 NBA Trade Deadline. (Photo by Andrew D. Bernstein/Getty Images)
With ESPN's Adrian Wojnarowski and The Athletic's Shams Charania going back and forth in announcing player movements before the 2021 NBA Trade Deadline, the people also witnessed mixed reactions from some of the most notable names in the league. There were sentimental tweets coming from former teammates, and of course there were also the usual surprised reactions.
You can see all the trades that happened here. For now, let's take a look at some of the best trade deadline reactions from a number of NBA figures and stars.
Magic ships Vucevic to the Bulls
Zach LaVine, Chicago Bulls
— Zach LaVine (@ZachLaVine) March 25, 2021
LaVine is not exactly an active user in Twitter, but he did let people know how big of a deal the Nikola Vucevic move was. Vucevic, one of the most underrated stars in the last few years, gives the Chicago Bulls another All-Star caliber player.
Terrence Ross, Orlando Magic
— Terrence Ross (@TerrenceRoss) March 25, 2021
Wow, life comes at you fast… I'm the oldest player in the locker room pic.twitter.com/dd6oHe1pqX

— Terrence Ross (@TerrenceRoss) March 25, 2021
If there is an award for the best tweets today, there's no doubt that Ross is way above his peers. The Magic traded away their key players in Vucevic, Aaron Gordon and Evan Fournier, but for some reason, they kept Ross in their roster. The 30-year old Ross is now one of the veterans in the team as the Magic heads towards a rebuilding stage.
The Clippers and the Hawks swapped back-up point guards before the trade deadline. (Photo by Adam Pantozzi/NBAE/Getty Images)
Rondo, Williams swap teams
Draymond Green, Golden State Warriors
Rondo to the clippers…. best trade today

— Draymond Green (@Money23Green) March 25, 2021
Draymond is obviously exaggerating here, but the Rajon Rondo addition will bring experience and stability to the Los Angeles Clippers' backcourt. It won't come as a surprise if Rondo joins stars Kawhi Leonard and Paul George in closing out games for the Clips.
Marcus Morris, Los Angeles Clippers
Appreciate your presence bro! @TeamLou23 that one hurt.

— Marcus Morris (@MookMorris2) March 25, 2021
The Lou Williams trade was quite a surprise for many, including Clippers forward Marcus Morris. Williams now travels to the East Coast to play for the Atlanta Hawks, a team for which he previously played from 2012-2014.
Jamal Crawford
I like the Rondo trade for the Clippers.. Would like it more if Lou was still with the Clippers ‍♂️

— Jamal Crawford (@JCrossover) March 25, 2021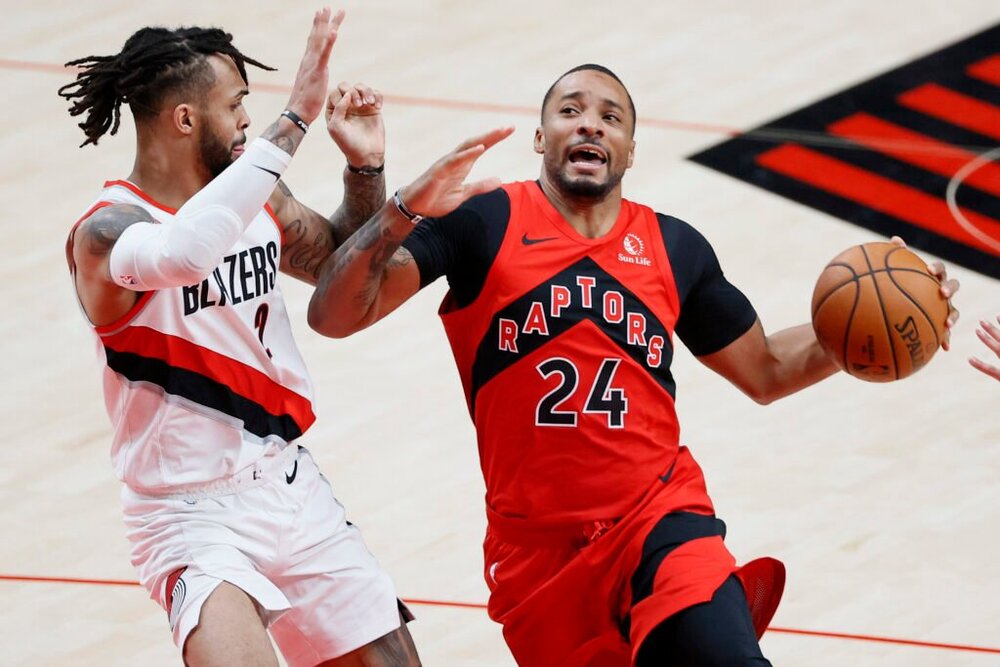 Norman Powell will now suit up for the Portland Trail Blazers. (Photo via The Athletic)
Portland acquires Norman Powell from Toronto
CJ McCollum, Portland Trail Blazers
My guy about to get a major all love @gtrentjr . Gonna miss you brotha. Keep being a go get what you deserve!

— CJ McCollum (@CJMcCollum) March 25, 2021
— CJ McCollum (@CJMcCollum) March 25, 2021
The Blazers may have missed out on trading for Aaron Gordon, but they got a borderline star-talent in Norman Powell. However, they also had to part ways with an up-and-coming 3-and-D stalwart in Gary Trent Jr., as well as veteran scorer Rodney Hood.
McCollum expressed his gratitude to his now-former teammates by mentioning them on their tweets and posting these heartfelt photos.
Jusuf Nurkic, Portland Trail Blazers
Good luck brothers ❤️ #4ever pic.twitter.com/uVn21B1QO1

— Jusuf Nurkić (@bosnianbeast27) March 25, 2021
Aaron Gordon is now headed to the Denver Nuggets. (Photo by Fernando Medina/NBAE via Getty Images)
Nuggets trade for Aaron Gordon
Jamal Murray, Denver Nuggets
— Jamal Murray (@BeMore27) March 25, 2021
Gordon is not yet an All-Star, but his ability to do almost everything on both offense and defense will bode well for the Nuggets' campaign this season. But they also had to let go shooting guard Gary Harris, who has been Jamal Murray's backcourt partner for a long time.
Monte Morris, Denver Nuggets
Tough day man

— Monte Morris (@BigGameTae) March 25, 2021
George Karl, former Nuggets coach
The @nuggets added a more talented player than Jerami Grant, who ditched them a few months ago, and a damn good back up center who knows how to win championships.

I call that a good day for the team!

— George Karl (@CoachKarl22) March 25, 2021
Embiid shows support to former teammate
Joel Embiid, Philadelphia 76ers
Y'all better do it… He's the TRUTH!!!!! @okcthunder https://t.co/vlctOjlGU2

— Joel "Troel" Embiid (@JoelEmbiid) March 25, 2021
Embiid hasn't played with Tony Bradley for that long, but he already knows that the young center has what it takes to be good frontcourt player in the league. The Sixers moved Bradley to the Oklahoma City Thunder in exchange for veteran point guard George Hill, and Embiid was quick to show his support to his former teammate.