If Markieff Morris decides to sign with another team this offseason, here are five versatile forwards that the Los Angeles Lakers can sign in free agency.
Jeff Green and LeBron James can team up again in Los Angeles. (Photo via FanSided)
The magnificent play of big men JaVale McGee and Dwight Howard has been a much-talked about topic all season long, but it was Markieff Morris' versatility particularly in the Finals that stole the spotlight from those two centers. With the Miami Heat going small-ball the whole series, Morris' underrated defense and three-point shooting gave the Lakers so much flexibility on both ends of the floor.
But with Morris entering free agency this offseason, there could be other teams willing to spend more to nab the 3-and-D forward. If Morris' camp demands a salary that is more than what the Lakers can commit, the Purple-and-Gold squad can go after these quality combo forwards.
Jeff Green
2019-20 Season Averages: 9.4 points, 2.8 rebounds, 1.0 assists, 34% 3-pt
Green is already familiar with LeBron James, both as a teammate and as an opponent. Although their one season with the Cleveland Cavaliers didn't end up in a championship, it's clear that James has already established some level of trust for the former 5th overall draft pick.
Green is not a better defender than Morris, but he is no slouch in that part of his game. On top of that, his scoring skill set is not just focused on long-range shooting. He can also put the ball on the floor and drive down the lane for strong finishes around the rim.
Bobby Portis
2019-20 Season Averages: 10.1 points, 5.1 rebounds, 1.5 assists, 36% 3-pt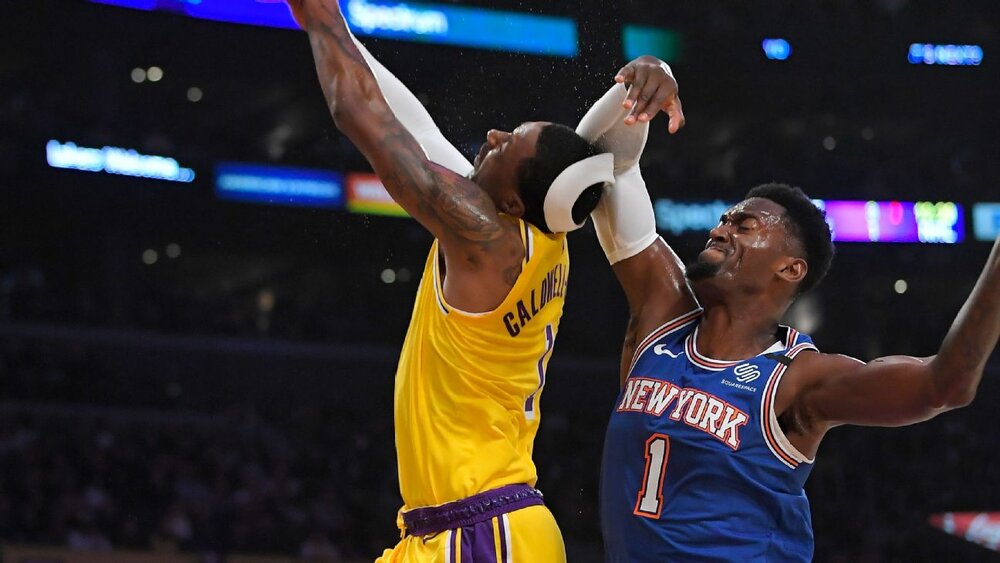 Bobby Portis was assessed with a flagrant foul on Kentavious Caldwell-Pope during a Knicks-Lakers regular season game. (Photo via ESPN)
Portis may not be popular with Lakers fans due to his flagrant foul hit on Caldwell-Pope in the regular season, but he surely has the potential to fit in with James and Anthony Davis. It remains to be seen if New York will decline Portis' $15 million team option for next year, although it would be wise for the Knicks not to opt into that large contract.
If that happens and Portis becomes a free agent, the Lakers front office should be able to encourage the stretch big man to sign a bargain one-year deal to help him win a championship and boost his value. Portis is not really known for his defensive prowess, but he has the length and arguably enough foot speed to cover bases on that end.
Paul Millsap
2019-20 Season Averages: 11.6 points, 5.7 rebounds, 1.6 assists, 44% 3-pt
Paul Millsap guarding LeBron James during a Lakers-Nuggets match-up. (Photo from USA TODAY Sports)
At this point of his career, Millsap would be wise to look for a place where he will have the best opportunity to chase a championship ring. He will be turning 36 next year, and the best role for him moving forward is to be a veteran leader and an immediate contributor for the second unit of a championship-contending team.
If the Lakers can persuade Millsap to take a lesser salary for the golden chance of winning the 'chip, he will be a perfect fit for the team. He can guard all three frontcourt positions, and his stellar 44% shooting from the three-point line expands his worth in the pace-and-space game.
Wilson Chandler
2019-20 Season Averages: 5.9 points, 4.1 rebounds, 1.1 assists, 30% 3-pt
Chandler is not the fanciest name out there, and he could be the least efficient three-point shooter in this list. But the 33-year old forward is an underrated rebounder, and his 6-foot-8 frame allows him to body up defensively with any forward in the league.
However, there are reports saying that Chandler has already inked a contract with the Zhejiang Guangsha Lions in the CBA. But if Chandler's name becomes available before the mid-season signing deadline, he could be a good catch for the Lakers.
JaMychal Green
2019-20 Season Averages: 6.8 points, 6.2 rebounds, 0.8 assists, 39% 3-pt
Green still has the option to play into his last year with the Clippers. He has a $4.8 million player option left in his contract, and the Clippers would surely persuade him to stay and run it back for another attempt at their lofty championship hopes.
But if Green declines, he would be a perfect replacement for Markieff. Green had some big games in the playoffs when George struggled, and his long-range marksmanship is one of the best among power forwards in the league.