If the Lakers don't re-sign Kyle Kuzma to a rookie scale max extension this offseason, here's five teams that could sign the young star in restricted free agency next year.
Kyle Kuzma will be a restricted free agent in 2021. (Photo by Kevin C. Cox/Getty Images)
Kuzma didn't exactly pan out as the Los Angeles Lakers' third star, but he still made huge strides in his third year in the league. He is a much-improved on-ball and off-ball defender, and of course, he is a champion now. The Lakers will gun for a repeat bid next season, and there's no doubt that Kuzma will still be a valuable cog in their campaign.
However, Kuzma will also be entering restricted free agency in 2021 if the Lakers don't plan to offer him an extension this offseason. He will have a plethora of options, especially with teams needing more young star-caliber talent to bolster their roster.
San Antonio Spurs
Kuzma and Spurs head coach Gregg Popovich spent time together in the Team USA training camp in 2019. (Photo by Nathaniel S. Butler/Getty Images)
An injury kept Kuzma from making it to the roster of Team USA in last year's FIBA World Cup, but he sure made a fan out of Spurs head coach Gregg Popovich. Popovich was also at the helm of the national squad, and even said that he is already a big fan of Kuzma's game.
With the possibility of DeMar DeRozan and LaMarcus Aldridge being traded next season, the Spurs might be heading into a rebuild. If Popovich is still with the storied franchise by that time, then there's reason to believe that he will lobby for a Kuzma acquisition.
Detroit Pistons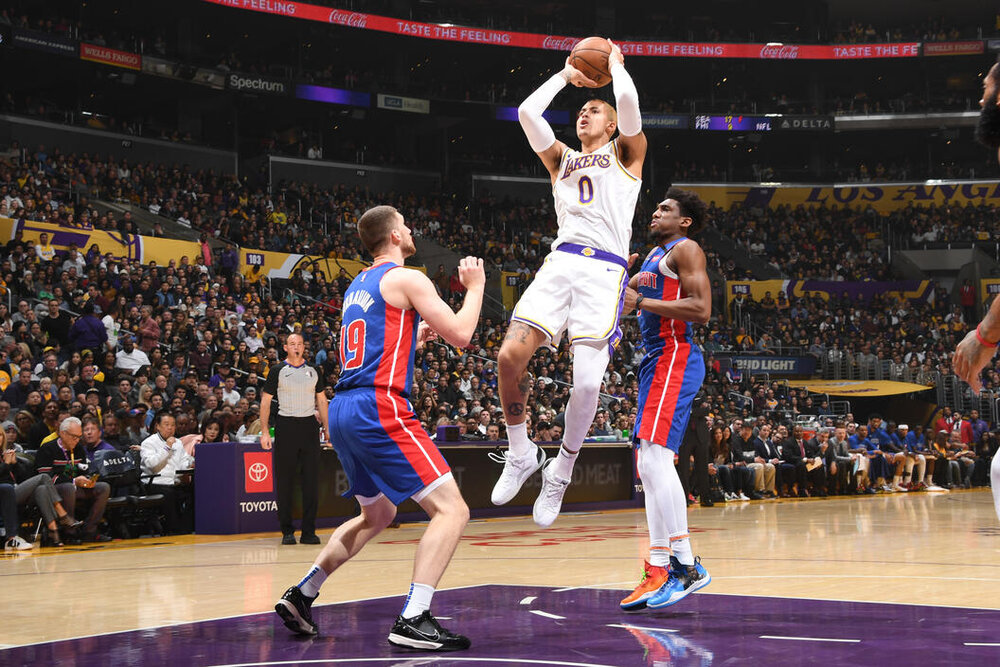 Kuzma grew up being a fan of the Pistons' basketball culture. (Photo by Andrew D. Bernstein/NBAE/Getty Images)
Kuzma is from Michigan, so naturally he rooted for the Pistons as a kid. It makes sense that he would want to play for the his home base, especially right now that the Pistons are looking for their next cornerstone. After trading away Andre Drummond and possibly dealing Derrick Rose and Blake Griffin this offseason, Detroit will have tons of financial flexibility moving forward.
The Pistons might have the weakest roster depth in this list, but it's the perfect situation for Kuzma to build his reputation as a potential All-Star.
New York Knicks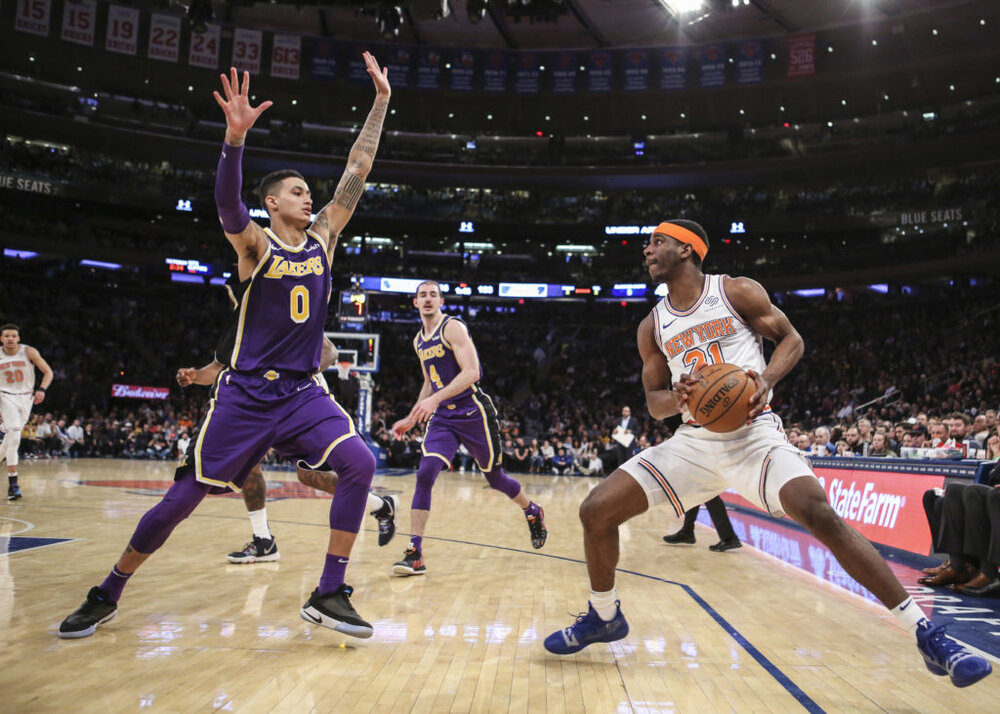 Kuzma will be a joy to watch in the Madison Square Garden. (Photo via USA TODAY Sports)
Having won a championship with a big-market team like the Lakers, Kuzma has shown that he thrives under the bright lights. His confidence and overall demeanor will be best-suited for New York, arguably one of the biggest basketball fan bases in the NBA.
Obviously, the Knicks again have lofty goals in the summer of 2021. But if they strike out again in signing top-tier players, a budding star in Kuzma would fit in perfectly with the timeline of RJ Barrett and Mitchell Robinson. Having Kuzma on board will provide much-needed excitement and hope for the playoff-hungry Knicks fans.
Oklahoma City Thunder
Kuzma could join the youth movement in Oklahoma City. (Photo via USA TODAY Sports)
There is a high chance that the Thunder will be able to get rid of Chris Paul's grand contract. Although Paul has been very excellent for them last season, the emergence of Lu Dort, Darius Bazley and Shai Gilgeous-Alexander will be key for the team's plans of rebuilding in the next couple of years.
Having said that, OKC will have the money to afford even Kuzma's loftiest salary demands. Similar to the Pistons' case, Kuzma will have the opportunity to be the main man for the Thunder.
Los Angeles Lakers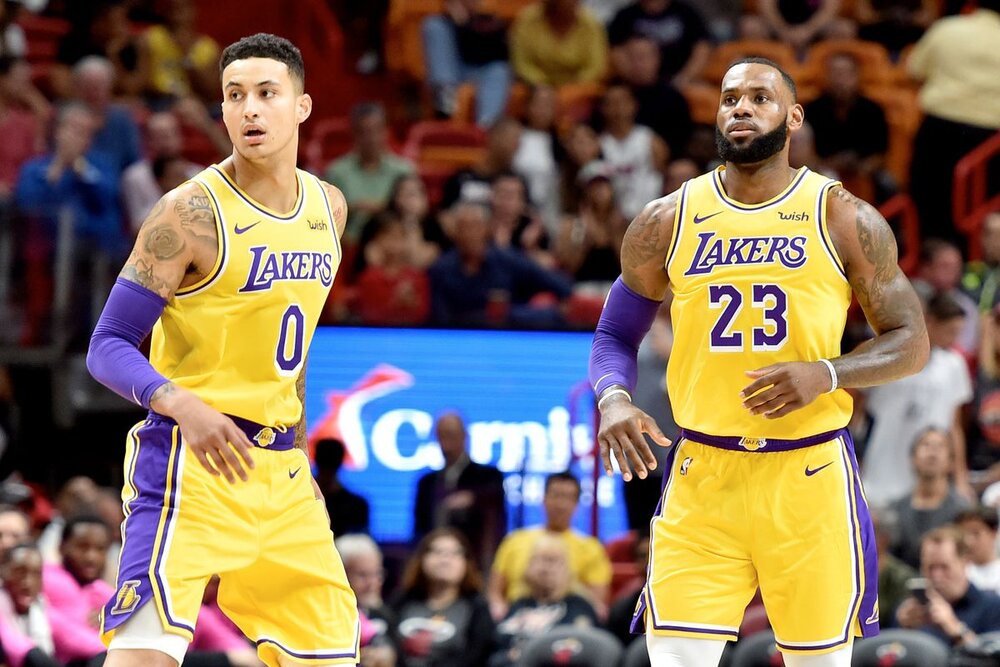 Kuzma has been a stellar scoring punch off the bench for the Lakers. (Photo by Steve Mitchell/USA TODAY Sports)
Of course, we can't count out the possibility of the Lakers matching every offer for Kuzma. LeBron James has the choice to opt out of the last year of his contract and enter free agency in 2021. If that happens, the Lakers will be pressed to re-sign Kuzma, given that they still have to build a solid supporting cast around Anthony Davis.
But even if LeBron stays, there is still a chance that the Lakers will bring him back. If Kuzma show more improvements and more consistency next season, he could eventually encourage the Lakers front office to re-sign him.