Barangay Ginebra San Miguel now holds a 4-0 unblemished slate, while the NLEX Road Warriors booked their first win in the 2020 PBA Philippine Cup.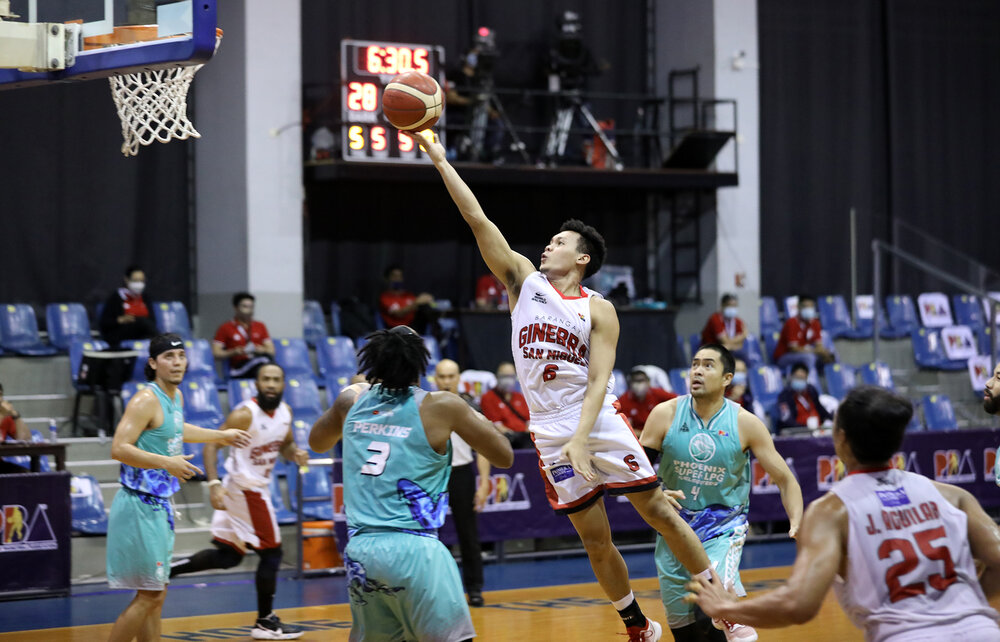 Ginebra's Scottie Thompson makes his signature finger roll over Jason Perkins of Phoenix. (Photo from PBA)
Ginebra kept their winning streak going as they soundly defeated the Phoenix Super LPG Fuelmasters, . Stanley Pringle topscored for Ginebra with his 20 points, 2 rebounds and 3 assists. Prince Caperal, who has been tremendous in the Clark bubble, chipped in 14 points, 9 boards and 3 dimes.
Holding a precarious one-point lead after the opening period, Ginebra broke away in the second quarter and had the momentum the rest of the way. They closed out well on the Fuelmasters' long-range gunners, limiting them to a horrible 18% clip from beyond the arc.
Ginebra's Stanley Pringle passes the ball to Scottie Thompson. (Photo from PBA)
Phoenix star Matthew Wright never got into a groove in his offense. He only scored 12 points, and made only five of his 17 attempts. Jason Perkins led the Fuelmasters with his 15 points and 8 boards, while Justin Chua finished with 11 markers.
Phoenix is still waiting for the PBA to give the green light for Calvin Abueva to finally play.
Ravena powers NLEX past NorthPort
NLEX's Kiefer Ravena goes for a breakaway lay-up over NorthPort's LA Revilla. (Photo from PBA)
The Road Warriors finally booked their first win in the Clark bubble as they defeated the struggling NorthPort Batang Pier, 102-88. Kiefer Ravena stuffed the stat sheet with his 25 points, 5 rebounds and 4 assists, while JR Quinahan and Kevin Alas chipped in 17 and 16 markers, respectively.
It was NLEX's defense in the first quarter that set the tone for the whole game. They limited NorthPort to only 15 total points in that period, The Road Warriors forced the Batang Pier to 20 turnovers, with Paolo Taha and Christian Standhardinger combining for nine miscues.
Kevin Ferrer paced NorthPort with his 18 points, and rookie Sean Manganti produced 16 points, 4 boards and 3 dimes off the bench. Standhardinger struggled mightily to get going on offense as the star big man was limited to only seven markers, and committed four turnovers.
Sean Anthony injured his hamstring in the first half, and only logged in six minutes before exiting the game for good.
SCORES
First Game
NLEX (102) – Ravena 25, Quinahan 17, Alas 16, Cruz 10, Miranda 9, Porter 8, Soyud 7, Ayonayon 6, Ighalo 2, Mcaloney 2, Semerad 0, Galanza 0, Paniamogan 0
NorthPort (88) – Ferrer 18, Manganti 16, Lanete 13, Taha 10, Elorde 8, Revilla 8, Standhardinger 7, Subido 6, Nabong 2, Cruz 0, Anthony 0, Guinto 0
Second Game
Ginebra (102) – Pringle 20, Caperal 14, J. Aguilar 13, Thompson 11, Tenorio 9, Devance 8, Tolentino 5, Mariano 4, Dillinger 2, Salado 0, Chan 0, R. Aguilar 0, Balanza 0
Phoenix (88) – Perkins 15, Wright 12, Chua 11, Intal 9, Heruela 7, Garcia 5, Jazul 5, Rios 3, Marcelo 2, Napoles 2, Reyes 0, Gamboa 0