Anthony Davis' efficient offense, combined with Talen Horton-Tucker's hounding defense, was enough for the Lakers to turn back James Harden and the Rockets.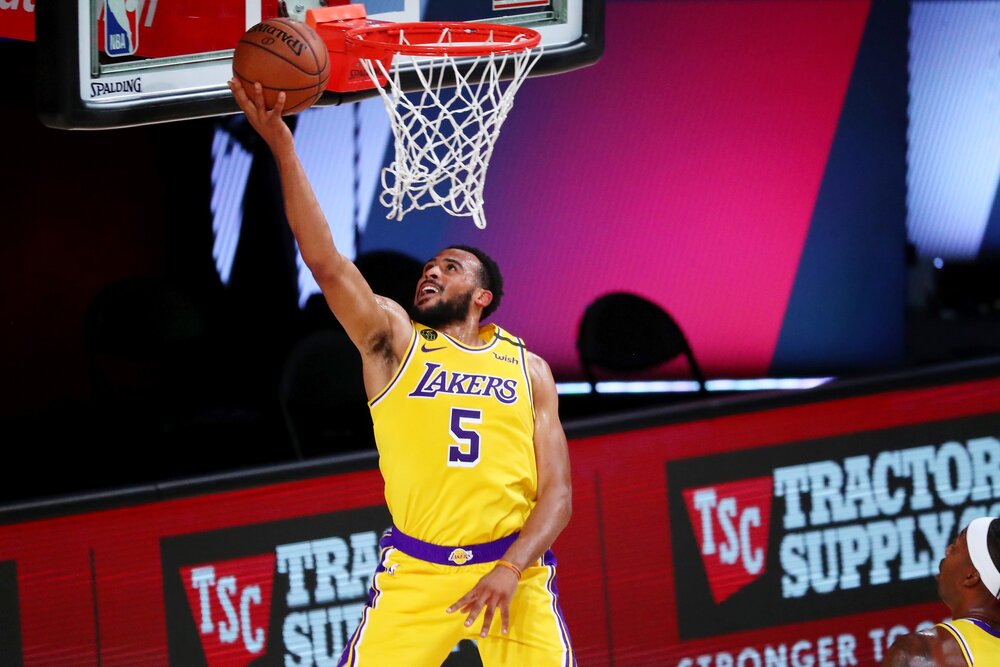 Talen Horton-Tucker tallied 4 steals in the Lakers' win over the Rockets. (Photo by Kim Klement/Getty Images)
Lakers' balanced effort turns back Rockets
The Los Angeles Lakers flexed their excellent roster depth tonight as they defeated the Houston Rockets, 120-102. Anthony Davis produced a highly-efficient 27 points in just 12 shots, while LeBron James came through with his 18 points, 7 rebounds, and 7 assists.
But it was sophomore wing Talen Horton-Tucker's fine play on both ends of the floor that stole the show in the win. Horton-Tucker finished with 17 points, 5 boards, 3 dimes, and 4 steals, while also missing just one of his eight attempts from the field. THT was hounding everyone on the defensive end, including this pick-pocket play on James Harden.
breakout game for Talen Horton-Tucker in Houston. career-high 17 points and ripped everyone in the arena wearing a red jersey, including Harden. pic.twitter.com/UHRUwNdkn7

— Talen Wobton-Tucker (@WorldWideWob) January 11, 2021
Christian Wood had a team-high 23 markers for the Rockets, and Harden tallied 20 points and 9 assists. DeMarcus Cousins only logged in eight minutes in the game after he was whistled for a Flagrant Foul Penalty 2 on a driving LeBron.
DeMarcus Cousins has been ejected after this flagrant 2 pic.twitter.com/dEec6gP6cI

— NBA Central (@TheNBACentral) January 11, 2021
This was the Rockets' third loss in the last four games as they drop to a lowly 3-5 record in the Western Conference.
Clippers spoil LaVine's 45-point explosion
The Los Angeles Clippers survived an explosion from Zach LaVine as they hacked out a close-call 130-127 victory over the Chicago Bulls. Kawhi Leonard led the charge for the Clips with his 35 points, while Paul George put up an all-around stat line of 28 points, 7 boards, and 9 dimes.
The Bulls came out firing in the first quarter as they opened up a nine-point advantage, but the Clippers bounced back strong in the second half. LaVine topscored for Chicago with 45 points, but the team's massive count of turnovers ultimately spelled the loss.
The Bulls shot a very efficient 61% clip from the field, including a stellar 54% from the three-point line. However, their 22 miscues paved the way for the Clippers to score 31 points off turnovers. Chicago drops to a 4-7 win-loss slate as they absorbed their third straight defeat.
Other games around the league:
Denver Nuggets beat the New York Knicks, 114-89
Oklahoma City Thunder defeated the Brooklyn Nets, 129-116
Utah Jazz turned back the Detroit Pistons, 96-86
Minnesota Timberwolves toppled the San Antonio Spurs, 96-88