Behind the clutch plays from Jimmy Butler and Bam Adebayo, the Miami Heat came away with a thrilling 117-114 Game 1 victory over the Boston Celtics.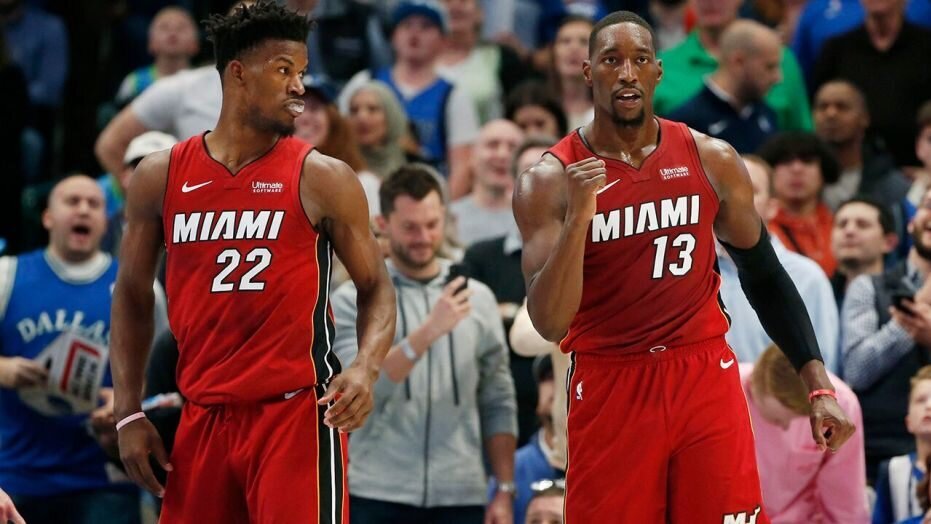 The Heat banked on Butler and Adebayo's heroics to defeat the Celtics in Game 1. (Photo via Heat Nation)
With their All-Stars making the clutch plays on both ends of the floor, the Heat defeated the Celtics to take an early 1-0 lead in their Eastern Conference Finals series. Veteran point guard Goran Dragic led the team in scoring with 29 markers. Jimmy Butler chipped in 20, while Bam Adebayo tallied 18 points, 6 rebounds and 9 assists.
It was a game of runs from both teams. The Heat struggled on offense in the opening frame, but came back firing in the second quarter. They put up 37 total points in that span, tying the score by the end of the first half.
But the Celtics' stringy defense again suffocated the Heat as the green-and-white squad established another 12-point lead in the third quarter. Marcus Smart, who finished with 26 markers, was instrumental in that Boston run, hitting consecutive three-pointers and making the accurate reads on defense.
The Heat would then bounce back in the payoff period, highlighted by this Butler corner triple that ultimately forced the overtime period.
JIMMY MF BUTLER. pic.twitter.com/TBZ3q6ZG6p

— Hoop Central (@TheHoopCentral) September 16, 2020
The overtime featured incredible clutch plays from both teams, starting with a Kemba Walker signature step-back jumper that gave the Celtics a one-point lead with only seconds left on the game clock. But that proved to be Boston's last hurrah as Butler converted on an and-one opportunity off a strong drive against Tatum.
Jimmy Butler is too damn strong pic.twitter.com/gIPfnJdy2z

— Barstool Sports (@barstoolsports) September 16, 2020
Then Adebayo follewed it up with a huge block on a Tatum dunk attempt that preserved the win for Miami.
Bam Adebayo with one of the best blocks in playoff history. And no doubt the best since LeBron's chasedown on Andre Igoudala. I still can't get over it. THIS IS UNREAL pic.twitter.com/GHVNU1YeI2

— Kevin O'Connor (@KevinOConnorNBA) September 16, 2020
Tatum led the Celtics with his double-double outing of 30 points and 14 boards, while also adding 5 assists, 3 steals and 2 blocks. Jaylen Brown also chipped in 17 points, and Brad Wanamaker added 11 off the bench.
Still, the Celtics need not to be discouraged after this close-call loss. Kemba struggled again with his shooting in this game, but they still had the opportunity to take down Miami.
SCORES
Heat (117) – Dragic 29, Crowder 22, Butler 20, Adebayo 18, Herro 12, Robinson 6, Olynyk 4, Nunn 3, Iguodala 3
Celtics (114) – Tatum 30, Smart 26, Walker 19, Brown 17, Wanamaker 11, Theis 4, G. Williams 3, Ojeleye 2, Williams III 2