RJ Jazul's career-night wills the Phoenix Super LPG Fuelmasters over the San Miguel Beermen, while the Meralco Bolts rallied past the Rain or Shine Elasto Painters.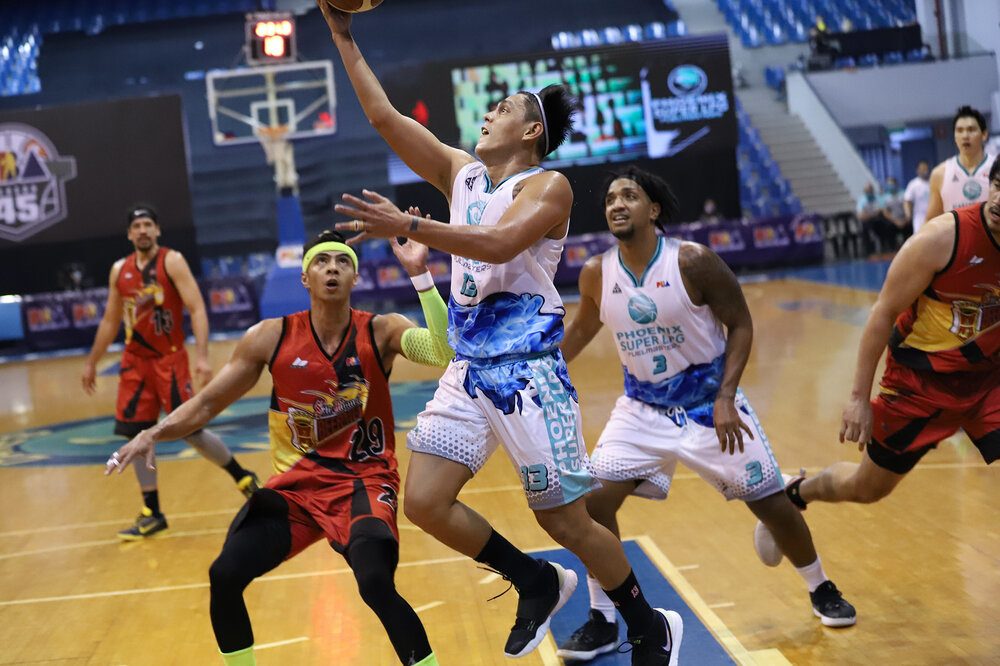 Phoenix's RJ Jazul makes a lay-up over Arwind Santos of San Miguel. (Photo from PBA)
Behind the long-range marksmanship of Jazul, Phoenix carved a 110-103 victory over San Miguel in Thursday's 2020 PBA Philippine Cup main event at the Angeles University Foundation Sports Arena and Cultural Center.
Jazul, one of the veterans in this young Phoenix squad, scored a game-high 33 markers, including a stellar 9-16 clip from three-point territory. Jason Perkins hauled in another double-double of 27 points and 10 rebounds, while Matthew Wright stuffed the stat sheet with his 10 points, 7 boards and 10 dimes.
Phoenix built a seven-point advantage at the end of the opening period, but Marcio Lassiter got into a groove in the second quarter. The Beermen completely erased the deficit as they led by a precarious one point entering the halftime break.
San Miguel's Marcio Lassiter eludes Matthew Wright of Phoenix. (Photo from PBA)
But the second half would belong to Jazul's heroics, especially during a crucial stretch in the fourth quarter when San Miguel threatened to take the lead. Jazul answered every San Miguel trifecta with a triple of his own as he notched his career-high in points in the win.
Mo Tautuaa led the charge for the Beermen with his 21 markers, but was plagued by foul trouble throughout the night. Lassiter and Alex Cabagnot tallied 20 points apiece as San Miguel drops to a 5-3 record in the standings.
Meralco uses third quarter run to beat Rain or Shine
Meralco's Baser Amer drives past Gabe Norwood of Rain or Shine. (Photo from PBA)
Behind a blistering run in the third period, Meralco nipped Rain or Shine with a lopsided victory. Baser Amer had one of his best performances in the Clark bubble, finishing with an all-around outing of 14 points, 6 rebounds and 7 assists.
The first half featured a close battle between the two squads. Rain or Shine veteran scorer James Yap turned back the clock as he drilled a couple of three-pointers on his way to 15 total markers in the first two quarters alone.
But the third quarter would turn out to be a nightmare for the Elasto Painters. Their offense sputtered mightily as the Bolts' defense tightened up. Rain or Shine would only come up with a measly total of 7 points the whole quarter, paving way for Meralco to open up a 23-point advantage entering the payoff period.
Yap finished the game with 18 points and 7 rebounds, while Beau Belga chipped in 11 points and 5 boards. Rookie Vince Tolentino tried to get a run going in the fourth quarter as Rain or Shine trimmed Meralco's big lead to only six in the waning seconds. However, the Bolts had enough cushion to hold off any comeback attempt.
Javee Mocon, the leading scorer for the Elasto Painters, struggled in the loss as he made only two of his 10 field goal attempts. Rain or Shine will try to bounce back from this defeat when they go up against Paul Lee and the Magnolia Hotshots on Saturday.
SCORES
Second Game
Meralco (85) – Newsome 17, Amer 14, Hugnatan 13, Maliksi 9, Quinto 8, Hodge 8, Jamito 6, Black 5, Almazan 4
Rain or Shine (78) – Yap 18, Belga 11, Torres 11, Nambatac 8, Borboran 6, Tolentino 6, Wong 6, Mocon 5, Onwubere 3, Norwood 2, Ponferada 2, Rosales 0
Third Game
Phoenix (110) – Jazul 33, Perkins 27, Garcia 11, Wright 10, Abueva 7, Mallari 7, Chua 7, Rios 3, Marcelo 3, Intal 2, Reyes 0
San Miguel (103) – Tautuaa 21, Cabagnot 20, Lassiter 20, Santos 11, Pessumal 10, Ross 6, Escoto 6, Gamalinda 5, Zamar 2, Mamaril 2, Alolino 0