As the NBA approaches a barrage of offseason moves, let's look at the recent trend of collective success that inclines towards younger teams and the squad where "The King" has taken his talents to.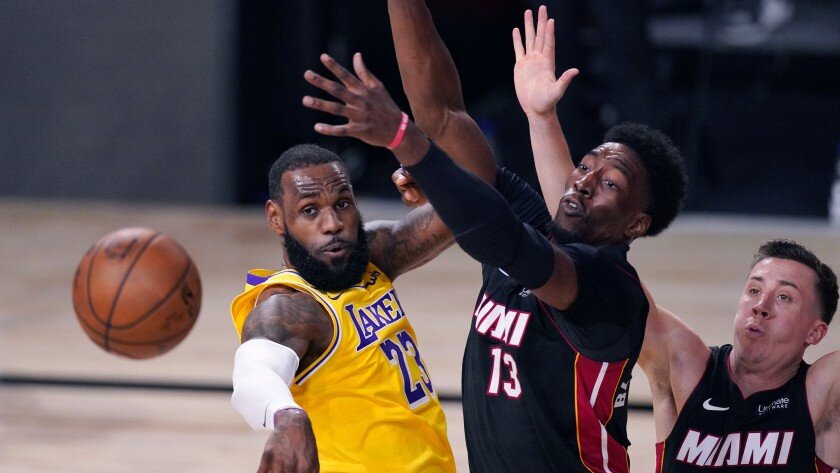 LeBron James and Bam Adebayo during the 2020 NBA Finals. (Mark J. Terrill/AP)
The 2020 NBA Playoffs ended with LeBron James and the Los Angeles Lakers clinching the championship, but what also stood out was the demographics among the teams that made it to the playoffs and had success in the bubble (i.e, the Phoenix Suns).
When considering just the conference finalists, below are the average ages (in years) of the Lakers, Denver Nuggets, Boston Celtics, and Miami Heat a day after the Lakers clinched the NBA title on October 11:
Los Angeles Lakers: 29.11
Denver Nuggets: 25.71
Boston Celtics: 25.12
Miami Heat: 27.47
(Source: Calculations based on Basketball-Reference data)
Removing outliers like Miami's Andre Iguodala and Denver's Paul Millsap would have further dropped their respective squads' age averages and reinforced the youth's staying power in arguably the most unique postseason in NBA history. Both the Celtics and the Nuggets have star players younger than 25, and Bam Adebayo and Tyler Herro, Jimmy Butler's running mates with the Heat, are just barely out of their teens. The likes of Devin Booker, Karl-Anthony Towns, and Trae Young have not even been included in this conversation, further proving that the future of the league is as promising as ever.
Young stars Karl-Anthony Towns and D'Angelo Russell are primed to bring more wins to Minnesota. (Photo via the Star Tribune)
The best ability is availability
From a non-basketball standpoint, the young guys taking center stage also makes sense; a number of them have yet to start a family and the current pace of the NBA favors fresh legs. Their focus and (barring any serious injury history) health allows them to fully devote their attention to basketball and this past postseason has shown that they've seized the moment.
The top 10 players who averaged the most minutes in the 2020 NBA playoffs were all under the age of 30, with Jayson Tatum topping out at 40.6 minutes per game. Five were in fact 25 years old or younger, with Tatum being the youngest among all at 21 years old. From a usage standpoint, the Celtics star was 11th with a 28.2 percent usage rate, with Luka Doncic (20 years old) and Donovan Mitchell (23 years old) leading the postseason in usage at 37.5 percent. 30-year old James Harden (32.4), fellow Houston Rocket and 31-year old Russell Westbrook (31.5 percent), and the seemingly ageless (and 35-year old BTW) James (30.4) were the only players in their 30s that finished in the top 10 in playoff usage.
Sure, the oldest among the four teams (and the one led by LeBron) won the title, but the 29 other teams didn't have two top-5 players on their roster (Anthony Davis is also 26 so there's that). So the next best thing for them is to create a squad that can overcome the abilities of a superstar like James (e.g. 2004 Detroit Pistons, San Antonio Spurs title teams, and the 2015-2018 Golden State Warriors squads) and compete for a championship.
The most opportune time to inject youth into a team is usually through the offseason and with the 2020-2021 NBA season set to begin on December 22, preparations are in full swing despite the unique circumstances the world is in right now. Rumors surrounding player movement and coaching changes have made the NBA a 365/24-7 affair and a day isn't complete without getting a Woj bomb or breaking news from Shams Charania on Twitter.
Health as an overlooked factor in team success
Skills have become a top priority in this offseason and rightly so, but health and age have become other factors team executives have had to consider. Both contending and rebuilding teams have their sights set on the likes of Fred VanVleet and Bogdan Bogdanovic not just because of their abilities, but also because their ages (26 and 28, respectively) put them in a position to be a foundational piece for the teams they sign with. Both players have also had no major injury problems, with VanVleet even playing through a broken tooth and a facial laceration (that required seven stitches) in the 2019 NBA Finals.
The 2020 NBA Draft this week will serve as another opportunity for squads to get younger players, some of whom are not necessarily short on experience. While there are the likes of LaMelo Ball and freshmen James Wiseman and Anthony Edwards, you also have the likes of upperclassmen Malachi Flynn and Tyrese Haliburton and European players Deni Avdija and Killian Hayes. Advija, Hayes, and even Ball's experiences against grown men and more coaching also make them more appealing to teams that want to give them prominent roles from the jump.
The best ability is availability and it cannot be emphasized enough how health is crucial to a team's title chances. Recovery and young players can go hand in hand and if used well, can make everything come full circle. The short rest between the end of the 2019-2020 NBA season and the start of the 2020-2021 season certainly favors squads with younger players and those with comprehensive recovery programs. The NBA grind during normal times is no joke and the shortened break between seasons only compounds the situation.
Jimmy Butler was right in saying the road to winning an NBA championship in this day and age runs through LeBron James. However, it won't hurt teams if they begin their preparations towards a future where it will be anyone's ball game (no pun intended). Skills and basketball IQ definitely factor into building successful teams but the current basketball landscape requires a squad that can also balance its youth and experience.