Kyrie Irving is now set to join forces with Kevin Durant and James Harden as the Brooklyn Nets face the Cleveland Cavaliers tomorrow.
Irving has played only seven games for the Nets this season. (Photo by Mike Stobe/Getty Images)
Kyrie Irving is officially back. As he has now completed the five-day quarantine imposed on him by the NBA, the All-Star point guard is now set to suit up when the Nets go up against the Cavaliers tomorrow.
Brooklyn head coach Steve Nash recently confirmed that Kyrie has finally participated in a Nets' practice session. Nash also reiterated that he expects Kyrie will be ready and available in tomorrow's game. (h/t ESPN's Malika Andrews)
Steve Nash confirmed Kyrie Irving practiced today for the first time in over two weeks.

Nash said he expects him to play tomorrow against Cleveland.

— Malika Andrews (@malika_andrews) January 19, 2021
Are the Nets already the team to beat in the East?
With Kyrie coming back to the fold, the Nets will be fielding in a three-headed monster that also includes Kevin Durant and James Harden. They would be a force to reckon with on offense, and they could build a solid case of becoming the team to beat in the Eastern Conference.
But to reach that goal, these three superstars have to buy in on an unselfish, ball movement-heavy system. It is no coincidence that Nash brought in Mike D'Antoni as his assistant coach. D'Antoni was the engineer of the Nash-led Suns' "seven seconds or less" offense where ball movement is placed with a heavy emphasis.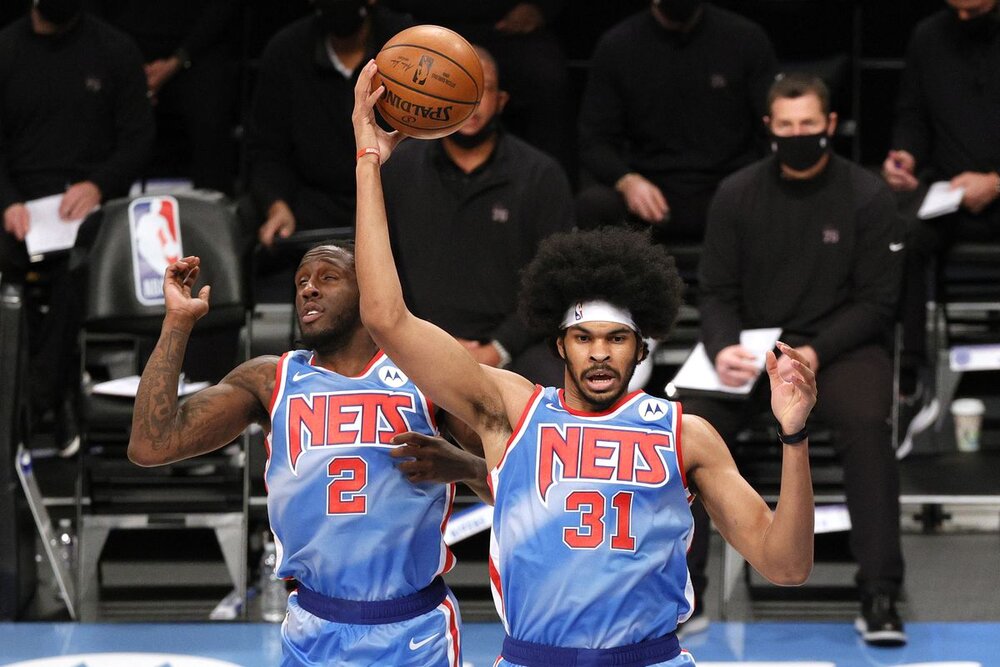 Taurean Prince and Jarrett Allen are now members of the Cavaliers squad. (Photo by Sarah Stier/Getty Images)
Jarrett Allen's absence will sting
To be able to acquire Harden, the Nets gave up two young budding pieces in Caris LeVert and Jarrett Allen. Much has been said about LeVert's scoring and playmaking, but the loss of Allen will definitely sting for the Nets.
Allen provides them with quality rim protection, and his underrated ability to stay in front of quicker guards is a valuable asset in today's switch-heavy defensive schemes. With Allen gone, Durant might log in more minutes as a small-ball center. A line-up of Kyrie, KD, Harden, Joe Harris, and Jeff Green will be deadly on offense as all of them can shoot, not to mention that they can put the ball on the floor and make plays off the dribble.
Durant grew into a capable rim protector during his stay with the Golden State Warriors, and he needs to reprise that role again to steer this Nets team to the top of the East hierarchy.