Victor Oladipo's lack of long-term commitment to the team could force the Houston Rockets to find a trade partner for the two-time All-Star.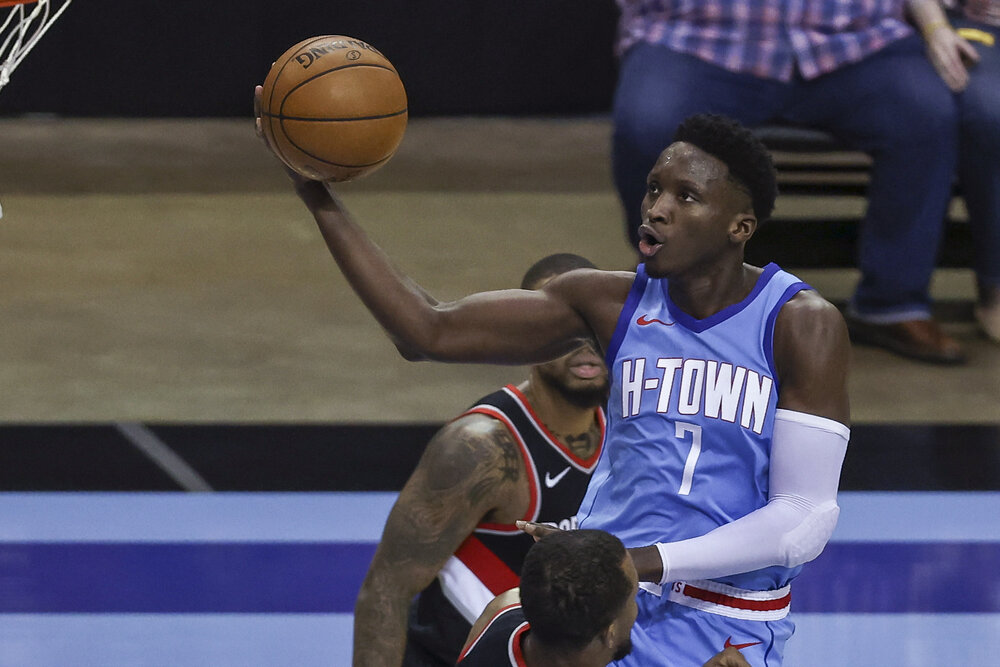 Victor Oladipo is averaging 20.8 points for the Rockets this season. (Photo by Troy Taormina/AP)
The Rockets are off to an excellent 6-3 record since Oladipo came to town, so why are they still bent on trading the former All-Star?
ESPN's Tim Bontemps recently reported that the Rockets will be looking for a trade partner for Oladipo this season. Bontemps also emphasized that executives around the league believe that Oladipo is one of the few "logical" trade candidates that could be moved in the next couple of weeks.
Report: The Rockets could potentially trade Victor Oladipo, via @TimBontemps pic.twitter.com/Y7xz5nQYoe

— Hoop Central (@TheHoopCentral) February 4, 2021
The trade deadline this season is set on March 25. With the circumstances surrounding the league and an offseason already filled with a bevy of roster changes, we might not see an eventful night before the deadline. The Rockets front office has almost completely revamped their line-up this year, so why are they still inclined on moving Oladipo?
'Dipo is set to walk away in free agency
Oladipo's name has often been linked to Jimmy Butler and the Heat. (Photo by Michael Reaves/Getty Images)
Oladipo's current contract will expire after this season, and it is highly-expected that he will be taking his talents to South Beach. Right after the trade to Houston happened, Kevin O'Connor of The Ringer reported that people around the league still believe that Oladipo's priority is to play for the Heat.
"Houston could also still flip Oladipo, who wanted out of Indiana but landed in another place he doesn't want to be. League sources say Oladipo still hopes to find himself in Miami."
— Kevin O'Connor, The Ringer
Oladipo may not have a lot of trade value in him as compared to his All-Star seasons in 2018 and 2019, but it's also true that he is steadily putting up all-around numbers this year. He is tallying 20.4 points, 5.1 rebounds, 4.6 assists, and 1.4 steals per contest as he continues to remind everyone why he was considered as one of the best two-way stars a couple of years ago.
Of course, this is not a knock on the Rockets' failure to bring about a positive environment for their players. Oladipo himself recently said that he is enjoying his time in Houston, and that he and his teammates are already building good chemistry on and off the court.
Victor Oladipo and the Rockets always step up for one another pic.twitter.com/2mKO5KLYMc

— Rockets Nation (@RocketsNationCP) January 29, 2021
But letting Oladipo just walk away in free agency will not be a wise decision for the Rockets. With how well the 28-year old shooting guard is playing this season, the Rockets can nab a good young player or a future first-round draft pick in a trade deal.
There is really little chance that Oladipo will stay in Houston for the long run, so look for the Rockets to pull off another roster change this season.