With Kevin Love being given the green light to return to basketball activities, will the Cleveland Cavaliers opt to place the veteran big man on the trading block?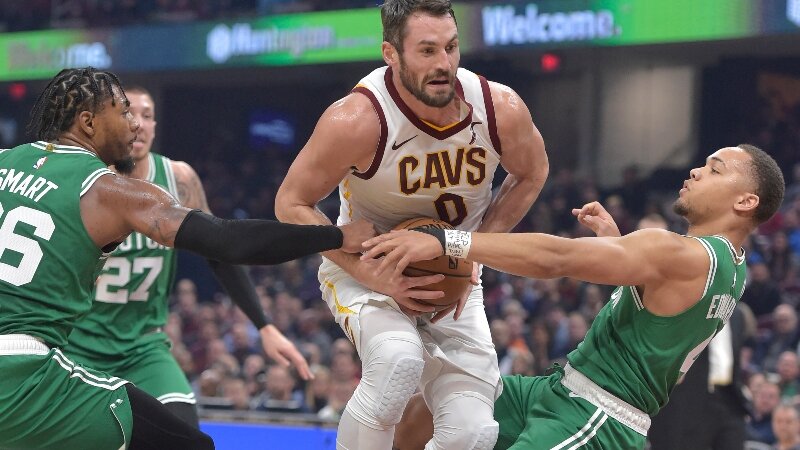 Kevin Love could be a trade target for the Boston Celtics. (Photo by David Richard/USA TODAY Sports)
Love now one step closer to much-awaited return
After missing the Cleveland Cavaliers' last 18 games, Kevin Love could be making his way to the court anytime soon. The Cavs' official Twitter account reported about this exciting development, saying that the veteran All-Star power forward has already been allowed to resume basketball activities.
STATUS UPDATE: forward Kevin Love has begun individual basketball activities after undergoing a series of treatment and rehabilitation programs to heal a right calf strain he reaggravated on Dec. 27 against Philadelphia at Rocket Mortgage FieldHouse.

DETAILS ↓

— Cleveland Cavaliers (@cavs) February 3, 2021
The 32-year old Love has only logged in two games for the Cavaliers this season. He put up 15 points and 9 rebounds in a win against the Detroit Pistons, but then suffered a setback the following night. Eight minutes into their match-up against the Philadelphia 76ers last December 27, Love aggravated a right calf injury that forced him to sit out for several weeks.
The Cavaliers have made roster moves since then, acquiring Taurean Prince and a young budding frontcourt star in Jarrett Allen. There's no doubt that Love's long-range shooting can help him co-exist with Allen, but there's still a huge chance that the Cavaliers will explore the veteran's value in the trade market this season.
Which team will express interest in a Love deal?
Love's name has been linked to the Denver Nuggets for the past couple of years. (Photo via Cavaliers Nation)
At 32 years of age and numerous injuries already adding up to his mileage, Love's production will understandably decline. But it's a good thing that his game was never built on athleticism. He has excellent instincts in positioning for a rebound, and his three-point shooting should help him last longer.
But Love is also on a very hefty contract. He is set to earn $62 million until the 2021-22 season, then $28 million during the 2022-23 season. That could be a huge gamble to take for any team, especially with how injury-prone Love has been in the past couple of years.
Having said that, there are contenders out there who are in need for a solid presence on the frontcourt. The Boston Celtics and the Toronto Raptors could certainly use another proven big man, while a Love-Jokic pairing in Denver could be an intriguing force to reckon with.