Behind their stingy defense and clutch baskets, the Los Angeles Lakers beat the Miami Heat in Game 4 and move a step closer to their 17th championship.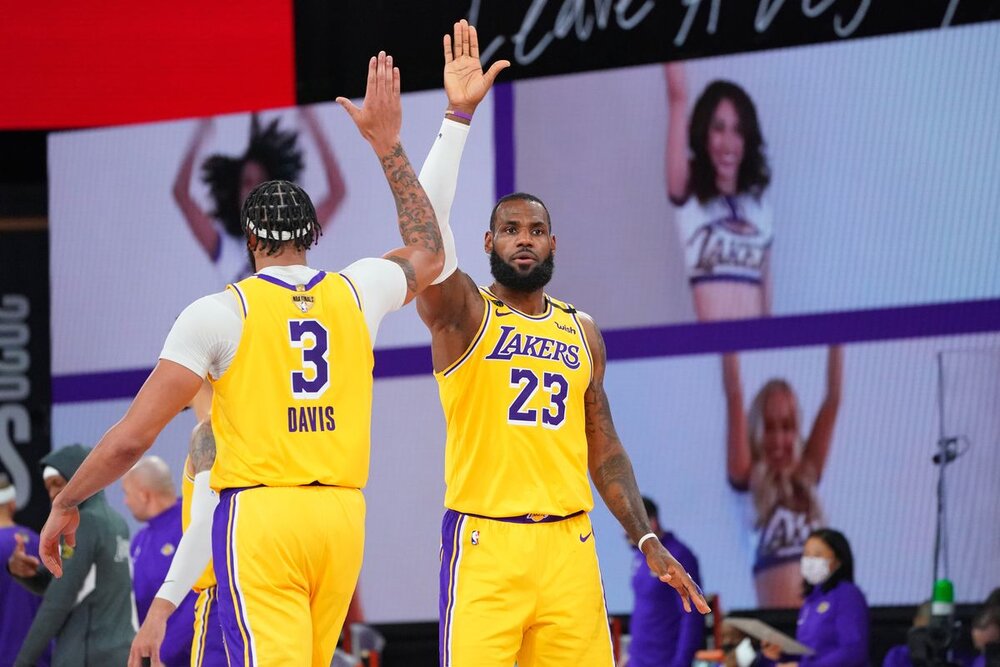 James and Davis buckled down to work in the second half of the Lakers' Game 4 win over the Heat. (Photo by Jesse D. Garrabrant/NBAE/Getty Images)
With a 102-96 Game 4 victory over Miami, the Lakers are now a win away from hoisting the 2020 NBA championship trophy. LeBron James shook off an underwhelming first half performance to finish with 28 points, 12 rebounds and 8 assists, while Anthony Davis stuffed the stat sheet with his 22 points, 9 boards, 4 dimes and 4 blocks.
Despite James struggling early in the first two quarters, the Lakers' defense made it very difficult for the Heat to gain any momentum. L.A. had a precarious two-point lead entering the second half, and their masterful defense carried over the rest of the night.
An unsung hero in the form of Kentavious Caldwell-Pope rose to the spotlight for the Lakers. Caldwell-Pope put up 15 points and 5 assists, including a corner triple and a strong lay-up in the fourth quarter to give his team a 95-88 advantage with under two minutes left on the clock.
Kentavious Clutch-Pope

( : ABC) pic.twitter.com/mcakZ6C2Pw

— Los Angeles Lakers (@Lakers) October 7, 2020
Jae Crowder would answer back with a wing trifecta, but that proved to be the Heat's last hurrah. Rajon Rondo, who had seven rebounds and five dimes, scored his only points on a crafty drive down the lane for an easy lay-in. Davis then put on the finishing touches, drilling a dagger triple at the top of the key to give the Lakers a nine-point lead.
AD: Another Dagger pic.twitter.com/IiRnAee11w

— Los Angeles Lakers (@Lakers) October 7, 2020
Jimmy Butler almost had another triple-double as he tallied 22 points, 10 boards, 9 dimes and 3 steals. Rookie Tyler Herro produced 21 markers, while Bam Adebayo chipped in 15 points and 7 rebounds after missing Games 2 and 3 of the series.
Miami is now facing a 1-3 glaring hole, and they need to find a way to make Davis less effective in Game 5 if they want to extend the series.
SCORES
Lakers (102) – James 28, Davis 22, Caldwell-Pope 15, Green 10, Morris 9, Kuzma 9, Caruso 7, Rondo 2, Howard 0
Heat (96) – Butler 22, Herro 21, Robinson 17, Adebayo 15, Crowder 8, Nunn 6, Olynyk 4, Iguodala 3