In an effort to usher in a new era to their storied franchise, the New York Knicks are rumored to be trading for either one of Chris Paul, Paul George or Victor Oladipo.
Paul George could be on the trading block after a disappointing first year with the Clippers. (Photo by Mike Ehrmann/AP)
The Knicks have been the laughingstock of the NBA for some time now, and they are bent on changing that storyline soon. With talented young players like RJ Barrett and Mitchell Robinson already in place, the team is now targeting bona fide stars to lead the squad.
Chris Paul
Paul's experience and court smarts will benefit the Knicks' young players. (Photo via CBS Sports)
As per Heavy.com's Brandon "Scoop B" Robinson, the Knicks front office is already concretizing a trade package for the 35-year old All-Star. Paul is coming off a stellar first year with the Oklahoma City Thunder, leading the team to a surprising good run to the playoffs.
According to @ScoopB, the Knicks have a deal lined up for Chris Paul, including Kevin Knox, Frank Ntilikina, and Draft Picks.

— Hoop Central (@TheHoopCentral) October 6, 2020
It remains to be seen if the Thunder will demand for a first-round draft pick, but that could be too much for the Knicks to give up. Paul is turning 36 next year, and he packs a massive contract with him. But New York is apparently high on how Paul can mentor young players, the same way he helped Shai Gilgeous-Alexander and Dennis Schroder in Oklahoma City.
Paul George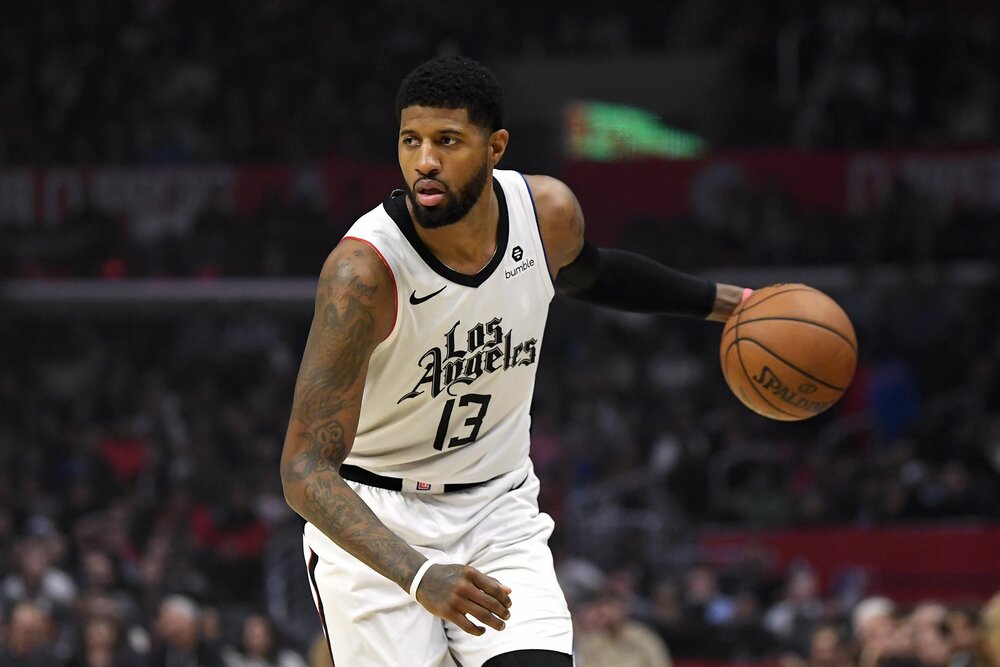 George should immediately be the main star in New York. (Photo by Mark J. Terrill/AP)
According to Marc Berman of the New York Post, it won't come as a surprise if the Los Angeles Clippers place George on the trading block soon. After a solid MVP-caliber year last season with the Thunder, George didn't exceed expectations, especially during the Clippers' semifinals exit at the hands of the Denver Nuggets.
"While Donovan Mitchell appears off the board with a reported intention of signing a Utah contract extension, Paul George may emerge after the clumsy ending to the Clippers' season," Berman wrote on his column.
George normed 21.5 points, 5.7 rebounds and 3.9 assists for the Clips this season, but was a non-factor in the playoffs. Of course, the Clippers would want to run it back with him and Kawhi Leonard growing their chemistry so a potential Knicks trade is still high up in the air.
Victor Oladipo
Victor Oladipo will enter the final year of his contract next season and become a free agent in 2021. (Photo by Ashley Landis/AP)
A trade for Oladipo could be the most realistic option for the Knicks, at least among the names included in this list. Still, it will be a risk as 'Dipo is entering the final year of his contract, and there's no certainty if he will want to re-sign in New York after one year.
But Berman would include in his same column that the Knicks front office has already put a priority on acquiring the Indiana Pacers star shooting guard.
"While Rose, the Knicks rookie president, has Paul on his trade radar, putting together a package for younger Pacers' guard Victor Oladipo is expected to be a higher priority, according to NBA officials," Berman said on his article.
After suffering a major injury last year, Oladipo came back this season but he was not in his usual explosive self. He only put up 14.5 points, his lowest scoring output since his rookie year in 2013. That will be an important thing that the Knicks should look into, especially if they have to give up multiple assets for the 28-year old star.