The Boston Celtics could upgrade their defense with a potential acquisition of Jrue Holiday, while the Indiana Pacers receive the 100% commitment of Victor Oladipo.
Jrue Holiday would make the Celtics a more complete team. (Photo by Jonathan Bachman/Getty Images)
Celtics interested in bringing in Holiday from New Orleans
The Boston Celtics have emerged as a candidate in the Jrue Holiday sweepstakes. According to Kevin O'Connor of The Ringer, the Celtics could offer move up the 2020 NBA Draft then trade that pick to the Pelicans. Holiday has been one of the most obvious players placed in the trading block this offseason, and the Pelicans just need a team to suit their demands.
Sources: The Celtics have emerged as a potential destination for Pelicans guard Jrue Holiday. Boston could package its three firsts (14, 26, and 30) to move into the lottery and flip the pick to New Orleans. More details and rumors in my latest mock draft: https://t.co/MWGF6RSakS

— Kevin O'Connor (@KevinOConnorNBA) November 12, 2020
However, flipping their first rounders will not be enough for Boston to complete a deal. They have to let go of one of their own lucrative contracts to match that of Holiday's. The Pelicans combo guard is set to earn $25 million next season, and $26 million during the 2021-22 season.
For the Celtics to match Holiday's salary, they should also part ways with either Gordon Hayward, Kemba Walker or even Marcus Smart. Hayward would be the first option for Boston, but New Orleans doesn't need another forward. They already have All-Star Brandon Ingram and Zion Williamson manning that position.
The Pelicans would rather go after Walker or Smart in this deal. Parting ways with Smart would strip the Celtics of their defensive-minded glue guy, while trading Walker will deplete them of another shot creator.
But if the Pelicans would agree to bring Kemba onboard, the Celtics should already bite. The growth of Jaylen Brown and Jayson Tatum on offense will more than make up for Kemba's scoring. On top of that, a backcourt partnership of Holiday and Smart would be a defensive force to reckon with.
Oladipo denies trade rumors, stays committed in Indy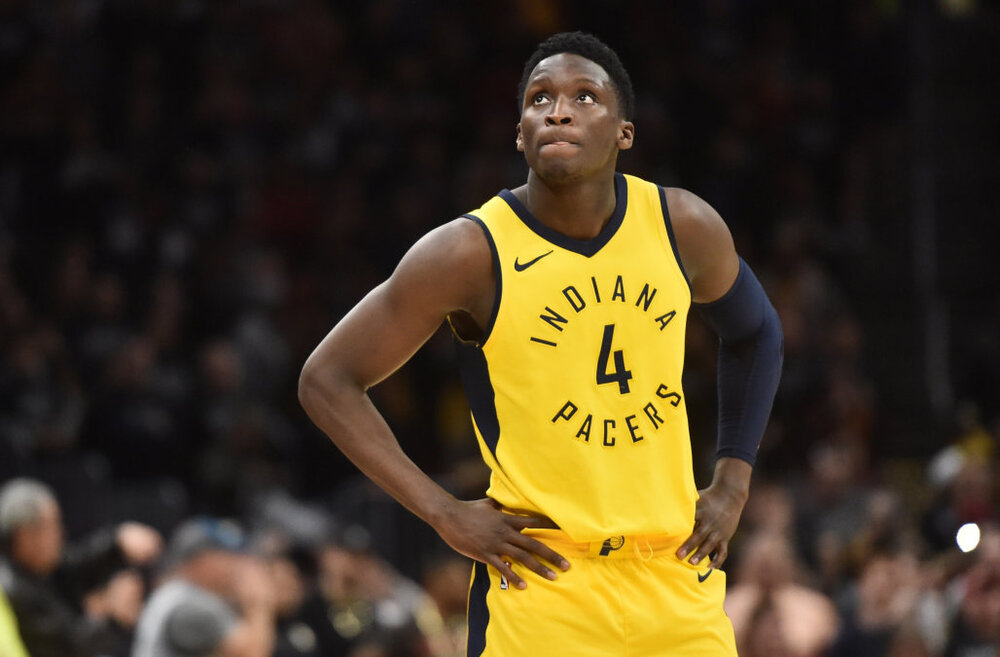 Despite trade rumors, Victor Oladipo stays committed with the Pacers. (Photo by Ken Blaze/USA TODAY Sports)
Oladipo is here to stay with the Pacers. After rumors of him wanting to play for teams like the Miami Heat, the New York Knicks and the Toronto Raptors, Oladipo himself has denied these speculations. In an interview with Shams Charania of The Athletic, the Pacers guard reiterated his love for his teammates and his priority on winning a championship for Indiana.
Victor Oladipo on @TheAthleticNBA: "I know there have been people saying that I have asked players to trade for me. That's just not true, period. I love my teammates, I cherish the state of Indiana and I'm focused on leading this franchise to a title."https://t.co/tZwhFkhqrk

— Shams Charania (@ShamsCharania) November 13, 2020
Oladipo, who is in the final year of his contract with the Pacers, has been linked to numerous trade speculations this offseason. However, his value as a trade asset has gone down after a major injury he suffered in 2019. Oladipo normed averages of 14.5, 3.9 rebounds, and 2.9 assists for the Pacers last season, a far cry from the numbers he had during his two consecutive All-Star selections in 2018 and 2019.