LeBron James shrugged off an ankle injury to produce a triple-double stat line and land at the top of last night's best individual performances in the NBA.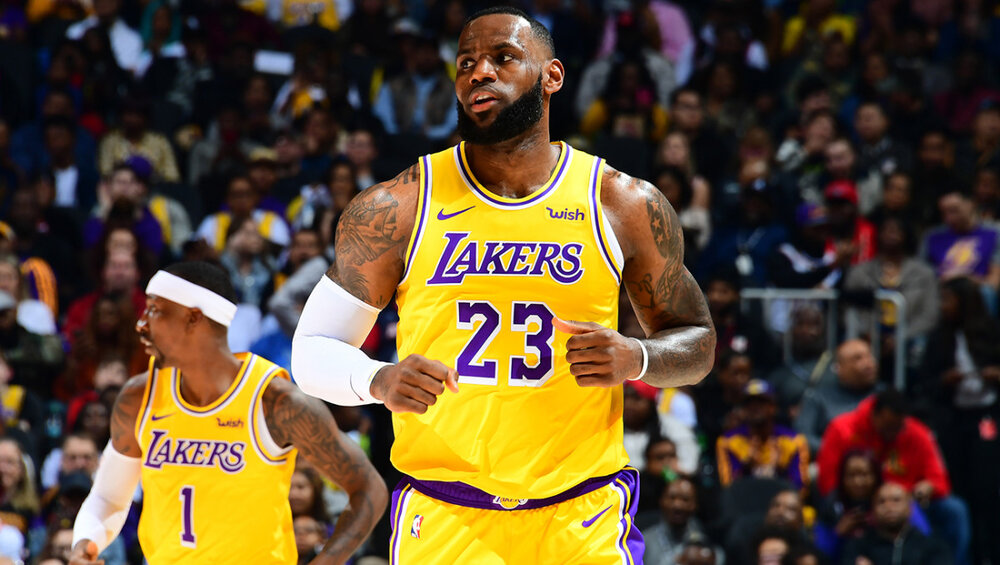 LeBron James' triple-double led the Lakers to a win against the Thunder. (Photo by Scott Cunningham/NBAE/Getty Images)
LeBron James, Los Angeles Lakers
28 points, 14 rebounds, 12 assists, 2 steals, 2 blocks
James came into the game nursing an ankle injury, but it didn't stop him from dominating in the Lakers' 119-112 win over the Oklahoma City Thunder. James even logged in a game-high 42 minutes as the defending champs played without the injured Anthony Davis and Alex Caruso.
LeBron led the Lakers in all the five major statistical categories, and highlighted his brilliant performance with this alley-oop dunk off a nice lob pass from Marc Gasol.
— Los Angeles Lakers (@Lakers) February 9, 2021
Aside from his skill set, LeBron's ability to stay healthy has definitely helped the Lakers' cause this season. He has not missed any game this year, really not bad for a 36-year old star with a lot of mileage in his tank.
Dejounte Murray, San Antonio Spurs
27 points, 10 rebounds, 4 assists, 8 steals
8 STEALS. The surprisingly-good Spurs already look at the 24-year old Murray as their leader, and the latter didn't disappoint in the team's hard-fought 105-100 victory over the Golden State Warriors. It's not everyday that defense steals the show in the NBA, but Murray was certainly the best player in the win.
And it's not just on defense that Murray put in the work. He also led the Spurs in the scoring column, capped by this tightly-contested three-pointer that gave them a four-point lead with only seconds left on the game clock.
What a game for Dejounte Murray

27 PTS
10 REBS
8 STL
4 AST pic.twitter.com/0IKNtLH3F5

— Bleacher Report (@BleacherReport) February 9, 2021
Kristaps Porzingis, Dallas Mavericks
27 points, 13 rebounds, 4 assists, 6 blocks
Speaking of defense, the 7-foot-3 Porzingis showcased his abilities on that end during the Mavs' 127-122 win over the Minnesota Timberwolves. Porzingis registered six blocks in the win, while also producing a team-high 27 markers. The Mavericks star big man has eclipsed at least 24 points in three of his last four games, so look for him to get into a good rhythm in their next assignment against the Atlanta Hawks.
Devin Booker, Phoenix Suns
36 points, 5 rebounds, 8 assists, 55% 3-pt
With the injured Chris Paul sitting on the sidelines, Booker had to do almost everything in the Suns' 119-113 victory over the resilient Cleveland Cavaliers squad. Booker started hot early on as he amassed 17 points in the first quarter alone, then sustained that efficiency all game long.
The Suns star shooting guard also dished out eight assists and drained five triples, including this awkward-looking jumper that still found the bottom of the net.
Like, look at this.

Book now has a season-high 35! #DevinBooker | #NBAAllStar https://t.co/sIQvrSsPQf pic.twitter.com/DbemfL7Sy8

— Phoenix Suns (@Suns) February 9, 2021
Khris Middleton, Milwaukee Bucks
29 points, 8 rebounds, 12 assists, 3 steals
You just can't look past Middleton's brilliance anymore. Giannis Antetokounmpo again dominated last night, but it was Middleton's all-around effort that was the driving force of the Bucks' 125-112 win over Nikola Jokic and the Denver Nuggets. The two-time All-Star forward was just two rebounds shy of a triple-double as he also put on a clinic with his accurate passes.
On top of that, Middleton also bailed out the Bucks' offense numerous times. His shot-creating has been on-point all season long, and this performance against the Nuggets was just a quick reminder of how good he is.