The Brooklyn Nets absorbed their third consecutive defeat as their defense gave up 122 points to the bottom-dwelling Detroit Pistons.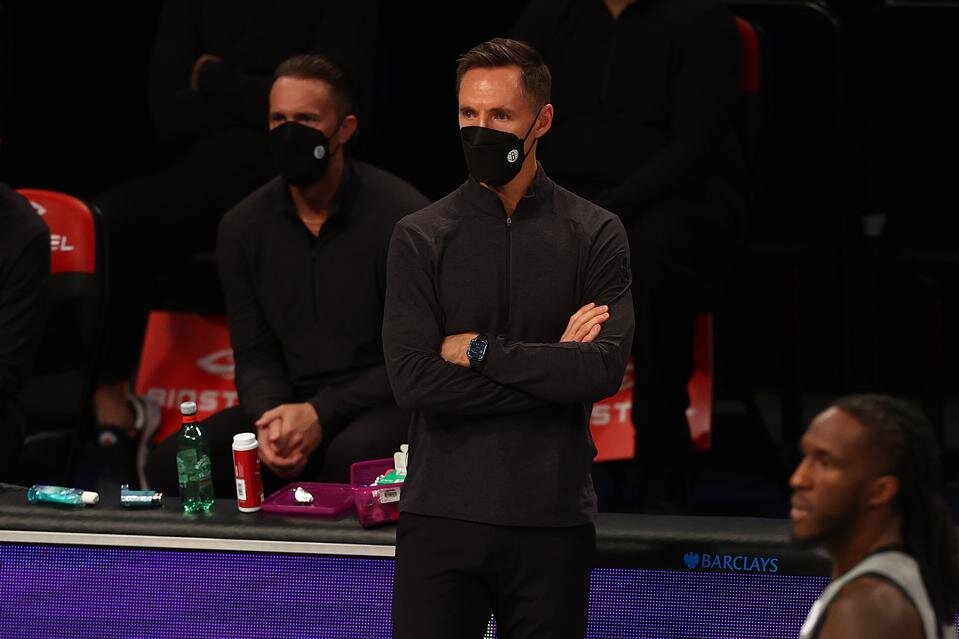 Nets head coach Steve Nash has a lot to figure out in improving his team's defense. (Photo by Mike Stobe/Getty Images)
Durant-less Nets lose to Pistons
The Brooklyn Nets' defense was again in shambles tonight. They absorbed a frustrating 122-111 defeat at the hands of the Detroit Pistons, who are currently sporting the worst record in the Eastern Conference. Jerami Grant finished with 32 points, 5 rebounds, and 4 assists for the Pistons, while veteran point guard Deron Wright chipped in 22 points, 9 dimes, and 2 steals.
Grant, who signed a multi-year contract with the Pistons last offseason, is currently a frontrunner for the Most Improved Player award this year. He shot an efficient 57% overall clip from the field tonight and drained four triples. Grant did everything for the Pistons in this win, including this nice set-up on an alley-oop play with Mason Plumlee.
Grant with the dime! @JeramiGrant x #NBAAllStar pic.twitter.com/Im8oY2DWcA

— Detroit Pistons (@DetroitPistons) February 10, 2021
As for the Nets, this is again a wake-up call particularly for their defense. The Pistons entered the game ranking 24th in the league on total points per game (108.4), but the Nets' measly defense gave up 122 points. Detroit already had 38 points in the first quarter alone, which certainly set the tone for the rest of the game.
James Harden led the charge for the Nets as he stuffed the stat sheet with 24 points, 6 rebounds, 12 assists, 2 steals, and 5 blocks. Kyrie Irving topscored for them with his 27 markers, but it's getting obvious that this recent string of losses is already mounting up the frustrations for the All-Star point guard.
Kyrie going through it pic.twitter.com/Zbw7dTI47F

— Bleacher Report (@BleacherReport) February 10, 2021
After the loss, Nets head coach Steve Nash emphasized that his players need to "challenge themselves" for them to build an identity, especially on the defensive end. Their defense has given up at least 120 points in the last six games, including 149 points to the Washington Wizards, a game which didn't even reach overtime.
"… I think this team needs to challenge themselves about who they want to be …"

Steve Nash

— Chris Milholen (@CMilholenSB) February 10, 2021
Unfortunately, the Nets don't have the luxury of time to figure things out quickly. They will go up against the Indiana Pacers tomorrow in the second leg of their current back-to-back schedule. The Nets will still miss the services of superstar Kevin Durant, who is sitting out due to COVID-19 protocols.