Executives around the league now believe that the Miami Heat, the reigning Eastern Conference champions, has become the most-favored free agency destination for top-tier stars.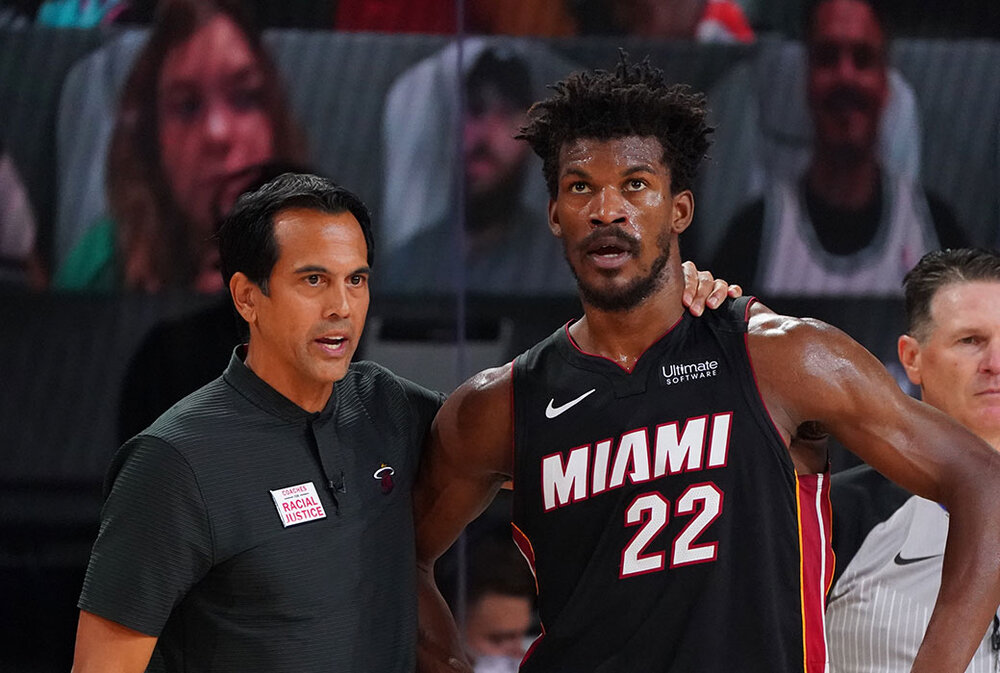 Jimmy Butler and head coach Erik Spoelstra led the Heat to a Finals run this season. (Photo by Jesse D. Garrabrant/NBAE)
The Heat fell two wins short of capturing the championship this season, but the future looks bright for the South Beach-based squad. With a brilliant head coach in Erik Spoelstra, a proven superstar in Jimmy Butler, a young All-Star in Bam Adebayo, and a bunch of young budding stars, Miami is just getting started.
It's already put out there that the Heat has set their sights on Giannis Antetokounmpo when the back-to-back MVP enters unrestricted free agency in 2021. According to Kevin O'Connor of The Ringer, NBA executives believe that Miami is now the top destination for free agents.
"Front office executives around the league believe the Heat have become the league's top destination for the next star with a wandering eye. Maybe it will be a free agent. Or maybe a player under contract who will seek a trade in 2021, since the Heat have good young players who could be traded in addition to first-round picks in 2025, 2026, and 2027."
— Kevin O'Connor, The Ringer
Miami is already linked to potential trades for Bradley Beal of the Washington Wizards or Victor Oladipo of the Indiana Pacers. Of course, they have to be willing to let go of their young assets to make those deals happen. Rookie hotshot Tyler Herro, who broke out of his shell in the playoffs, could be a centerpiece of any Heat's package for another star.
The Heat also have more valuable trade assets in Kendrick Nunn and Duncan Robinson, two undrafted youngsters who have proved their mettle and skillset in basketball's biggest stage. But the question lies in how willing Miami is in parting ways with these talented young guns, especially in the case of Oladipo. The Pacers star only has one year left in his contract before he becomes a free agent in 2021.
But even if the Heat decides to just run it back with this core, they will still be perennial contenders next season. They could bring back veterans Goran Dragic and Jae Crowder, and bank on the continuous growth of Adebayo and Herro.