After a month-long hiatus, the 2021 PBA Philippine Cup will finally resume on Wednesday at the Don Honorio Ventura State University Gym in Bacolor, Pampanga. 
Three games will mark the first day back, as a matchup between TNT and Blackwater kicks things off 12:30 p.m. San Miguel will then test Terrafirma at 3:00 p.m., while current league leader Magnolia will face the third-seeded Meralco at 6:00 p.m.
It will be interesting to see how players will adapt to the rigorous five-day weekly schedule implemented by the PBA to push their goal to finish the conference by October. This will certainly feel like a sprint, especially with some teams playing three games in five days.
Tomorrow's triple-header will also feature a couple of storylines that we should monitor. Here's a look at the best ones.
Can Mikey Williams snap out of his funk?
TNT head coach Chot Reyes described Williams' PBA debut as "far from impressive." In the two games that he played for the team, the 6-foot-2 highly-touted rookie averaged only 8.0 points on measly shooting percentages of 20.7% from the field and 20% from the three-point line. Per Stats by Ryan, an advanced stats platform for Philippine basketball, Williams' true shooting percentage (TS%) of 25.6% currently ranks the lowest among players who have attempted at least 10 field goals per game (Learn more about TS% here).
Still, we have seen glimpses of his all-around game, as Williams also averaged 5.5 rebounds, 3.5 assists, and 1.7 steals, proving that he does have potential to be a top scorer and playmaker for any team in the PBA. And despite the fact that he has yet to fully acclimate himself with his new team, Williams has logged 32.7 minutes, which is just a shade below RR Pogoy's team-high 33.4 minutes.
The reason for the significant amount of minutes he's seeing is because Williams is also a relatively old rookie — he's already 29 years of age. Any room for improvement in terms of his overall skill set is steadily waning, so the Tropang Giga will not patiently wait and will surely show willingness to throw him into the fire immediately. But there's little doubt that his efficiency will still improve, and a game against the hapless Blackwater could be Williams' springboard this conference.
The good and the bad for San Miguel
Terrence Romeo, who hyperextended his knee in his first game of the conference, has recovered from the setback and is expected to suit up for the Beermen in tomorrow's clash against Terrafirma. Unfortunately, a report from ESPN5 dampened that bit of good news, as veteran point guard Alex Cabagnot will be sidelined due to a torn meniscus on his left knee. Cabagnot will be reassessed in two weeks, but things are looking bleak.
San Miguel is overflowing with talent on its roster, but losing Cabagnot will definitely hurt especially when they face the top teams. The lefty veteran is putting up 12.3 points, 3.8 rebounds, and 2.8 assists this conference, and he is still their steadiest hand at the point in crunch time.
It remains to be seen how much playing time Romeo will get in his first game back from an injury, but back-up guards Paul Zamar and Von Pessumal could see an uptick in their minutes. Zamar is a quality presence for the Beermen as he is tallying 7.5 points, 2.5 rebounds, and 2.0 assists in just 15.8 minutes. Pessumal is making a decent 38.5% of his 3.3 three-point attempts per contest, and there's no doubt that he can produce more if given more playing time.
Winning against Terrafirma is not a difficult hill to climb for the Beermen, and it's a game that June Mar Fajardo can use to get back to his dominant ways. The team managed his load in the first four games, which is expected as the six-time Most Valuable Player is coming off a major shin injury that forced him to miss the entirety of last season. Fajardo has not yet eclipsed a double-double average like he usually does, but he is hauling down 17.5% of the available rebounds when he's on the floor, a great indicator of how he is still grabbing rebounds at a very high rate.
The San Miguel coaching staff won't force him to play tons of minutes tomorrow, especially if they quickly break away from Terrafirma. However, there's a good chance Fajardo dominates in limited time tomorrow, and that could surely boost his confidence moving forward.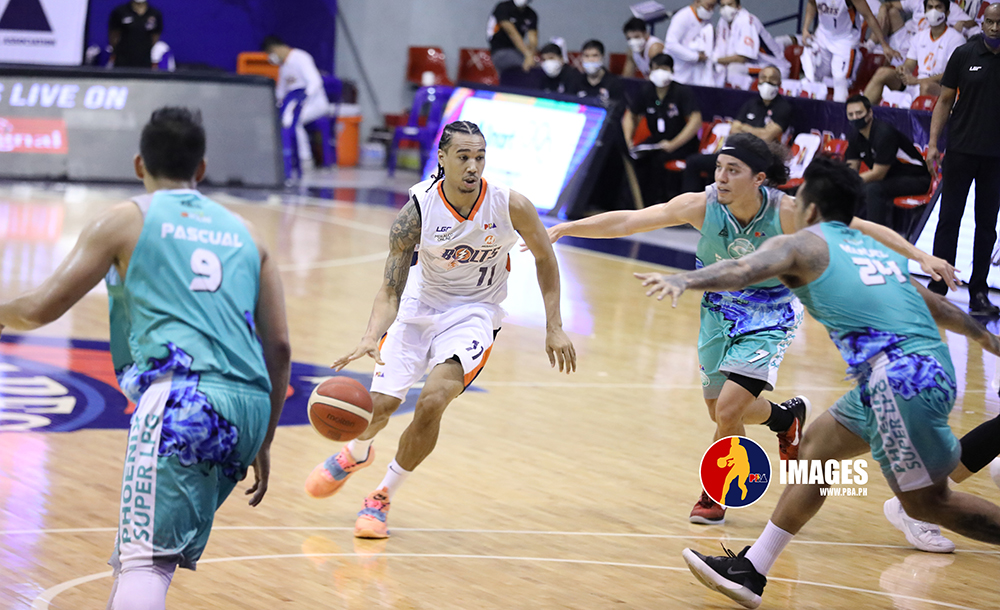 Meralco tests its mettle against Magnolia
Chris Newsome's continued excellence as the primary ball-handler and playmaker may have prompted Meralco to ship Baser Amer to Blackwater in exchange for Mac Belo. It was a good trade, to say the least, as Belo provides size and defensive versatility with his ability to guard four positions, and the returns have been positive, as both Newsome and Belo have looked good at varying times early on.
Meralco has entrusted Newsome with the keys to the offense, and there's no doubt that he is delivering the goods. Along with the fact that he is leading the team in scoring with 14.2 points, Newsome is also dishing out 5.4 assists. These numbers have helped Newsome rank second in the league in box creation with 9.6. Box creation (BoxCr) is an advanced metric that combines scoring and playmaking to gauge how many opportunities a player creates for his teammates.      
The jury is still out on Belo but he is building his case as one of the scorers in this team. The 6-foot-4 forward is averaging 10.8 points on 41% shooting from the field. His 18.2% clip from beyond the arc is pulling down his overall shooting percentage, but Belo is also making an excellent 62.5% of his two-point attempts. Moving forward, Belo could take advantage of his mobility and be more aggressive in driving down the lane instead of settling with the jumper.
Still, it has been the collective effort for Meralco that had them racing to an excellent 3-1 start. Newsome may be the one leading the team in scoring, but nine of his teammates are also averaging more than five points each game. Their defense is also holding up well, too, as they are limiting opponents to the third-lowest points per game (79). 
A new challenge awaits Wednesday, however, when the Bolts go up against Paul Lee and Magnolia. Lee has already recovered from a minor hamstring injury he suffered in the team's last game before the league hiatus, so he will be good to go tomorrow. The Hotshots are also now a more complete team with Calvin Abueva onboard, and naturally you can't leave out the consistent play of both Ian Sangalang and Mark Barroca.
In the scoring department, Lee, Sangalang, and Abueva are all averaging at least sixteen points per game. Barroca is not too far behind with his 12.0 points, and he is also leading the team in assists with 5.5. Abueva is amassing 16.0 points and 9.3 rebounds, a tad short of a double-double stat line. Meralco's defense will have to figure out which poison to pick as it is a grueling task to contain all these four players.
The Bolts have already trounced San Miguel earlier this conference. Beating Magnolia would be another cap on its feather.
Advanced Stats are now available for Philippine basketball! Through Ryan Alba's Stats by Ryan, you can now look at team and player advanced stats for the current 2021 PBA Philippine Cup via the Dribble Media website.
Also, check out this glossary for a list of the basketball advanced stats terminologies.
You can also contact Ryan Alba via his Twitter handle (@_alba__).