Chris Paul compiled 16 assists for Team LeBron last night. Where does that put him in the list of players with most assists in a single All-Star Game?
Chris Paul delivering another assist during the 2021 NBA All-Star Game. (Photo by Dale Zanine-USA TODAY Sports)
The headlines after the 2021 NBA All-Star Game were filled by the brilliant scoring performances of Giannis Antetokounmpo, Damian Lillard, and Steph Curry. Giannis eventually nabbed the MVP award thanks to his perfect 16-16 clip from the field, while Curry and Lillard took turns in delivering ridiculous half-court triples to pour more spice to the festivities.
But one of the overlooked stats last night was Chris Paul's 16 assists off the bench for Team LeBron.
That astounding number ties Paul's career-best in assists in an All-Star Game when he also tallied 16 in 2016. He previously dished out 15 assists twice, in 2015 and in 2013 when he won the All-Star Game MVP honors. His tremendous passing display last night also puts him ahead of the great Magic Johnson in all-time career assists in the All-Star Game.
So where does CP3 rank among the players with most assists in a single All-Star Game? Let's find out.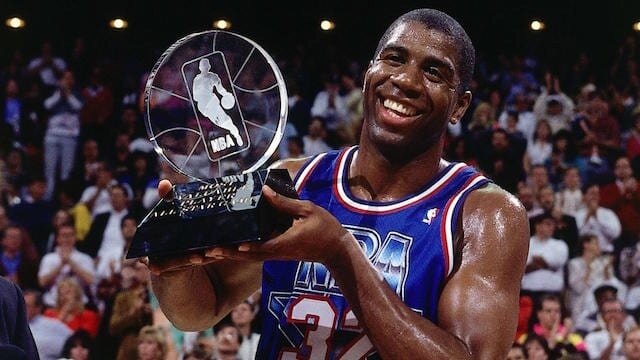 Magic Johnson holding the 1992 All-Star Game MVP trophy. (Photo by Nathaniel S. Butler/Getty Images)
1-2. Magic Johnson, Los Angeles Lakers
22 assists (1984)
19 assists (1988)
Who else would top this list? Of course, it would be Magic Johnson. The 6-foot-9 former Lakers point guard grabbed the top two spots in the list by dishing out 22 assists in 1984 and 19 in 1988.
In terms of Johnson's All-Star career, it was during the 1992 festivities when he came out of retirement to score 25 points and nab the MVP award that would be the most popular. But his 22-assist night in 1984 is still unreal.
3. John Stockton, Utah Jazz
17 assists (1989)
Stockton is up there in the list of the purest point guards that the basketball community has ever seen. The exceptional former Jazz court general started in the 1989 All-Star Game and compiled 17 assists, to go along with his 11 points and 5 steals.
Interestingly, Stockton's long-time Jazz teammate Karl Malone brought home the All-Star MVP award that year. There's no doubt that Malone was the great beneficiary of Stockton's passing brilliance that night.
4. Chris Paul and Magic Johnson (tied)
16 assists (1983-Johnson)
16 assists (2016-Paul)
16 assists (2021-Paul)
At this stage of his career, Paul should already have a spot in the list of the Top 5 playmakers in NBA history. He is turning 36 years of age this May, but his court smarts and pin-point passing continue to be elite assets that would push any team to playoff contention.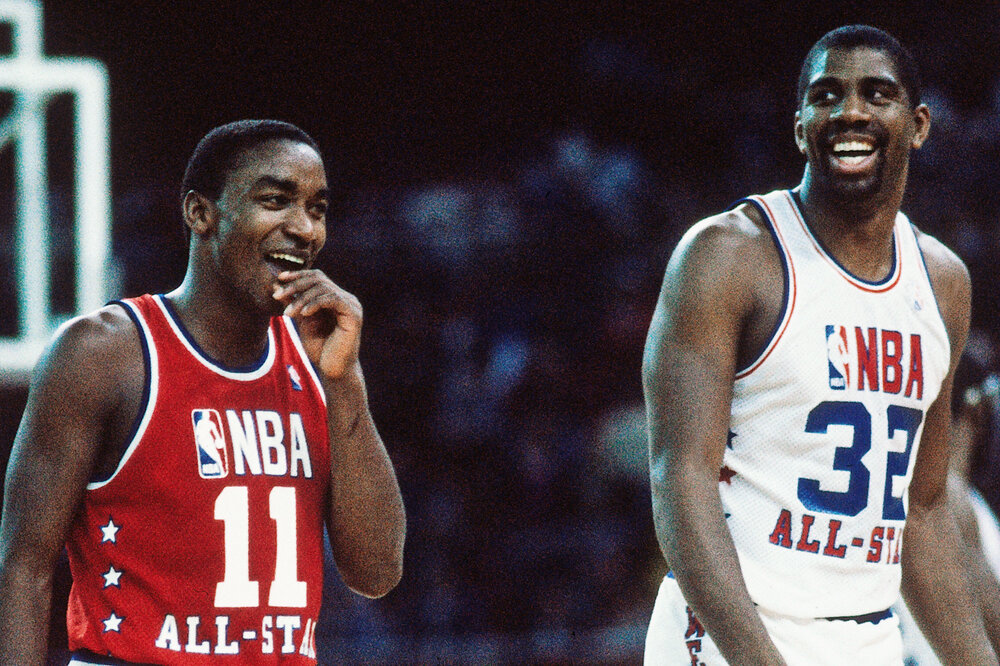 Isiah Thomas tallied 15 assists in the 1984 NBA All-Star Game. (Photo by Andrew D. Bernstein/Getty Images)
5. Gary Payton, Isiah Thomas, John Stockton, Chris Paul and Magic Johnson
15 assists
Former Seattle Supersonics legend Gary Payton joined this list when he compiled 15 assists during the 1995 All-Star Game. Isiah Thomas, a former two-time champion with the Detroit Pistons, tallied 15 assists twice. He first did it in 1984 when he also won the All-Star Game MVP honors, then did it again in 1988.
Stockton also produced 15 assists in 1993, while both Magic and Paul did it twice.