Derek Fisher is one of the best lefty shooters that the NBA has seen. Who are the other left-handed NBA players who hit the most career three-pointers in league history?
Derek Fisher puts up the famous "0.4" game-winning jumper over fellow lefty Manu Ginobili. (Photo by Stephen Dunn/Getty Images)
In our previous editions of NBA All-Time Stats, we wrote about the
most efficient clutch three-point shooters
and the
7-footers who scored the most career triples
. Today, we pay homage to the best left-handed shooters in NBA history. Of course, James Harden's name immediately comes to mind, but who are the other lefty shooters who drained the most three-pointers in their NBA career?
James Harden is the most prolific left-handed shooter in NBA history. (Photo by Tim Warner/Getty Images)
1. James Harden
2,428 3-pt made (2010-present)
Harden may even go down as the best lefty to ever play the game of basketball. He has everything packed in his bag of tricks, especially on the offensive end of the floor. A three-time scoring champ and a former MVP, Harden already has a clear path to The Naismith Basketball Hall of Fame.
Nick Van Exel with his Lakers teammate Kobe Bryant. (Photo by Andrew D. Bernstein/NBAE via Getty Images)
2. Nick Van Exel
1,528 3-pt made (1994-2006)
How good would Van Exel be in today's pace-and-space game? The former Los Angeles Lakers point guard played in the 90s era when the game was still built on big-man plays off the post or shooters draining the mid-range jumpers. If only players were given the green light to launch three-pointers at will back then, there's no doubt that Van Exel could have breached the 2,000th mark in made triples. Van Exel played for six different teams throughout his productive career, and notched his first and only All-Star appearance when he averaged
13.8
points and 6.9 assists for the Lakers during the 1997-98 season.
3. Manu Ginobili
1,495 3-pt made (2003-2018)
A true unselfish player who thrived on a sixth man role for Gregg Popovich and the San Antonio Spurs, Ginobili has won four championships in his NBA career. He was also a two-time All-Star, and was named as the Sixth Man of the Year during the 2007-08 season. In terms of his offense, Ginobili is more known for his creative "Euro Step" move down the lane, but he was also one of the best left-handed shooters in the league.
Mike Conley played 12 seasons with the Memphis Grizzlies. (Photo by Andy Lyons/Getty Images)
4. Mike Conley
1,272 3-pt made (2008-present)
Arguably one of the most underrated point guards in the past decade, Conley finally made it to the All-Star game this season. Along with Marc Gasol, the lefty court general was the face of the Memphis Grizzlies' franchise for a long time before he was traded to the Utah Jazz last year. On top of that, Conley has always been an efficient operator on offense. He is a career 37% shooter from deep, and is still one of the steadiest playmakers we have in the NBA.
5. C.J. Miles
1,250 3-pt made (2006-2020)
Miles is the least decorated player in the Top 10 of this list, but he always showed the ability to put up the buckets when needed. He once drained 10 three-pointers in a single game, and had a 40-point performance as his career-best output. Miles last played for the Washington Wizards in 2020, but is still without a team this season.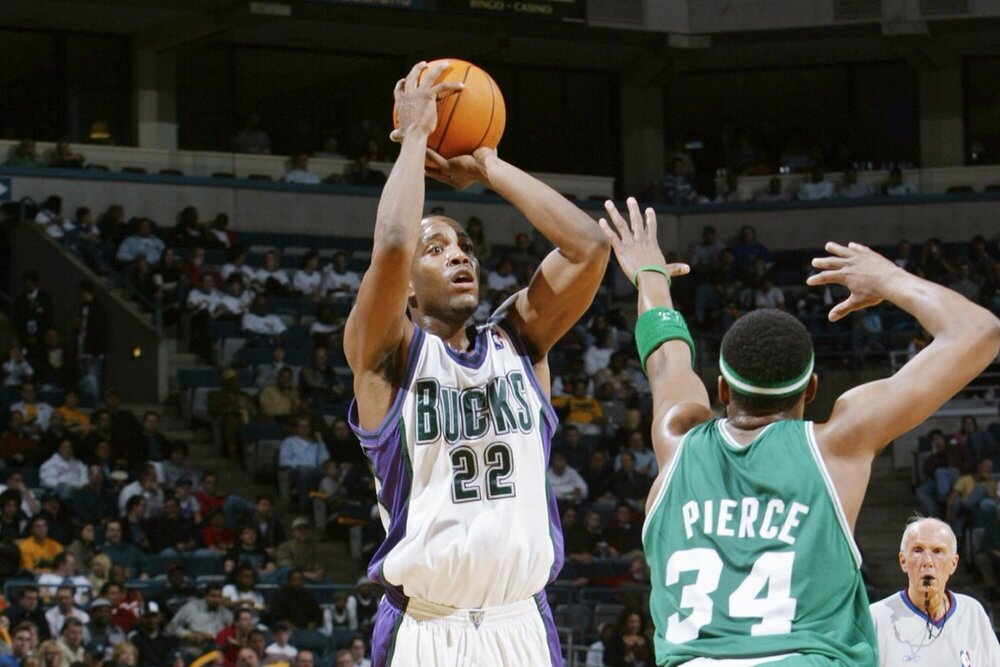 Michael Redd was a one-time All-Star and an Olympic gold medalist. (Photo via snotapwi.com)
6-15
6. Derek Fisher
– 1,248 3-pt made
7. Damon Stoudamire
– 1,236 3-pt made
8. Cuttino Mobley
– 1,085 3-pt made
9. Michael Redd
– 1,045 3-pt made
10. Goran Dragic
– 1,043 3-pt made
11. Isaiah Thomas
– 1,011 3-pt made
12. Morris Peterson
– 1,009 3-pt made
13. Anthony Peeler
– 940 3-pt made
14. Brandon Jennings
– 914 3-pt made
15. Joe Ingles
– 905 3-pt made
GET MORE BASKETBALL AND SNEAKER UPDATES WHEN YOU SUBSCRIBE TO DRIBBLE MEDIA'S YOUTUBE CHANNEL!