In this version of The Roundup, we look at three players who could serve as catalysts for their respective teams' campaigns for this 2022 PBA Commissioner's Cup. 
Potential catalysts in NorthPort's campaign
Before NorthPort Batang Pier's first game against the Phoenix Super LPG last Wednesday, we mentioned that Roi Sumang led the league in assists (6.5) during the 2022 Philippine Cup, while also making a stellar 40% clip of his three-point attempts. The Batang Pier doesn't have reliable primary playmakers outside of him and Robert Bolick, so they carry a big responsibility on the backcourt.
Prior to this conference, the question was how Sumang can maintain this high level of efficiency, especially since his 2022 PH Cup performance was the first time that he reached an average of six assists in a single conference. But we're seeing that his decision-making is getting on a higher level, and that could bode well for him and the Batang Pier's current campaign.
NorthPort is one of the few teams in the PBA that values spacing created by playing at least four willing three-point shooters at the same time. This is giving Sumang more room to operate, as you can see that most of his on-point passes are kickouts to his open shooters.   
Speaking of spacing, sharpshooter Arvin Tolentino is quickly elevating his stock with this team. He is averaging 19.0 points on shooting splits of 45.8/46.7/90.0 for a true shooting percentage of 66.9%. He is also putting the ball on the floor more often than he did during his time with Barangay Ginebra, and it's producing very good results. 
More than his offense, Tolentino is also playing tremendous defense. His 6-foot-5 length on the wing is aided by his relatively quicker feet and reaction time, and he is exerting effort to make plays on that end of the floor.
Bolick will still be the main offensive guy for this team, and the addition of Prince Ibeh could mitigate some of their weaknesses on defense. Trading away Jamie Malonzo hurts because they lost his talent, length, and athleticism. But the small sample size (two games in Week 1) is showing that NorthPort might be a more balanced team this conference, thanks in large part to what Tolentino and Sumang can bring to the table.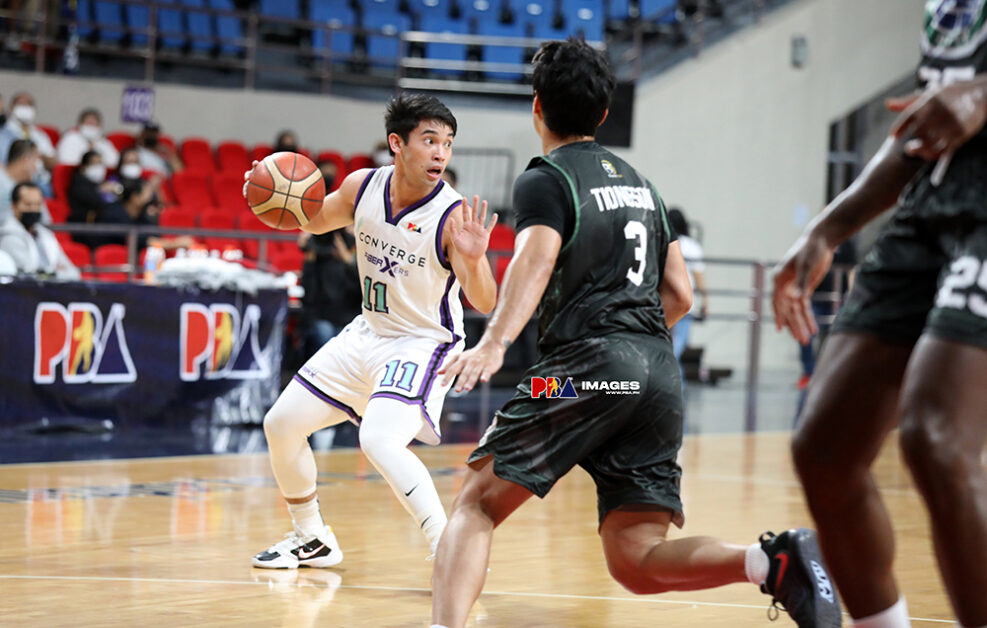 Melecio might be in for a breakout campaign
Aljun Melecio's first game with the Converge FiberXers wasn't explosive; he produced a decent stat line of 10 points, 3 rebounds, and 4 assists in the win against Terrafirma Dyip. But what stood out is his ability to play fast and steady, particularly with his decisions on the ball. 
Converge head coach Aldin Ayo said that the team's priority is to run on offense, but that type of offense could result in more turnovers and forced shots. So Ayo needs ball-handlers who can make good decisions in transition, and Melecio has the potential to be that type of player. Despite playing fast, Melecio didn't turn the ball over even once. 
Towards the end of the game — when Converge was leading by eight with seven minutes left in regulation — Melecio also showed that he could set some really good screens. He set a pair of good off-ball screens for import Quincy Miller in two consecutive plays, which produced six points and helped Converge run away with the win.
The scoring will eventually come for Melecio. He went 1-of-7 from deep, but the good thing is that none of those are forced shots. The former Green Archer will have his opportunities with the FiberXers, and he has the skills and basketball IQ to help him break out this conference.