We have called Kiefer Ravena the "King Eagle" before. "The Phenom" nickname then stood the test of time. But hey, maybe it's time to call him "Peak Kief" right now.
We are witnessing the peak years of Kiefer's career, and we can't take that for granted.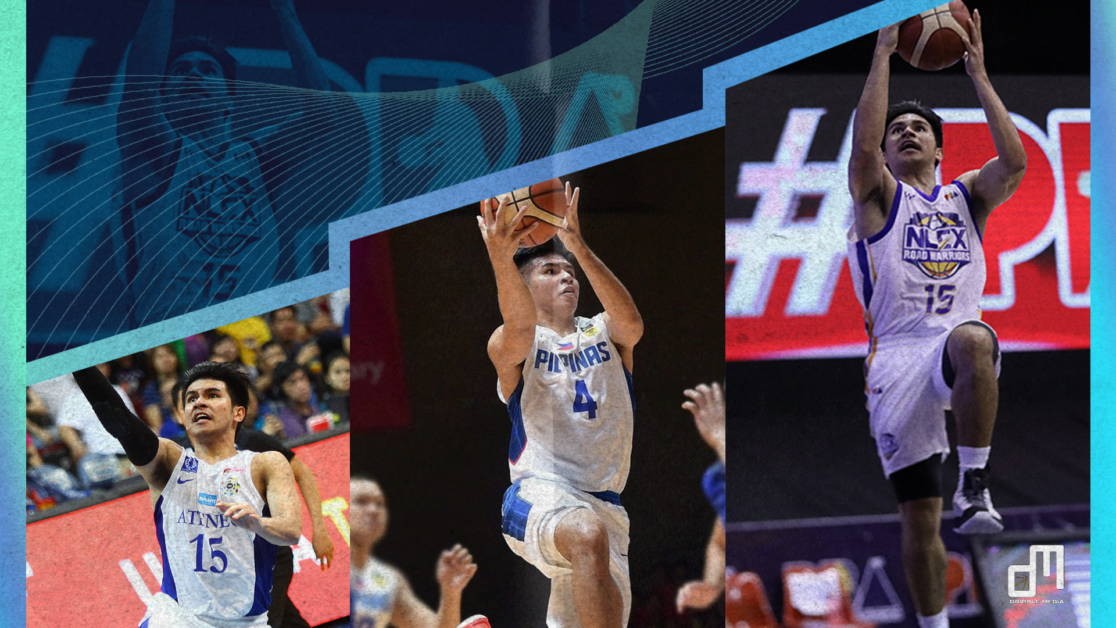 Kiefer Ravena has always been able to score the ball. It was what made him a top prospect coming out of high school and college. Even while playing college ball for Ateneo, his skill set in terms of scoring was already translatable to the PBA. "Ateneo Kiefer" was athletic and creative enough to finish around the rim, and he already showed nice balance and lift in his jump shot.
But the current Kiefer, who I now like to refer to as "Peak Kief", has grown by leaps and bounds in his ability to create shots for his teammates. He is currently averaging 6.5 assists per game for the NLEX Road Warriors, trailing only TNT Tropang Giga's Jayson Castro (6.6 APG) in that category. 
Kiefer has gotten very good at spotting his open teammates at the corner. The corner three is said to be the easiest three-pointer in basketball, and Kiefer and the Road Warriors are taking advantage of it. In this excellent play by NLEX, Kiefer draws two defenders then finds his backcourt sidekick Kevin Alas for the wide-open corner triple:
Moreover, the advanced stats also show Kiefer's continuous improvement in terms of his playmaking. As per Stats by Ryan on Dribble Media, Kiefer's Box Creation (BoxCr) of 12.55 is currently the highest in the league, with Meralco Bolts' Chris Newsome (9.57) coming in second. For context, Box Creation is a metric that takes into account a player's scoring and playmaking ability to evaluate the number of scoring opportunities that he creates for his teammates (you can find more information through this advanced stats glossary).
In fact, Kiefer's box creation this season is his highest in the past few years. You can observe the upward trend through this table:
KIEFER'S BOX CREATION (BY SEASON)
Kiefer's box creation this season increased by three points from last year, which in itself is already a drastic improvement. The game has slowed down even more for Kiefer and this is helping him become more effective with the ball in his hands. His Passing Production (PasPro), a metric used to measure the productivity of a player's passes, is at 7.90 this season. That number is also Kiefer's highest since the 2018 PBA season.
Kiefer is doing all these despite sharing ball-handling and playmaking duties with Alas, along with the fact that NLEX still doesn't have a more complete big man on offense. This is not a knock on the other point guards in the league, but it's without a doubt that "Peak Kief" is currently the best playmaker in the country.
Kiefer's jumper is currently on-point
In his first few years in the PBA, Kiefer was never viewed as a game-changing three-point shooter when compared to the likes of San Miguel Beermen's Marcio Lassiter or Phoenix Super LPG Fuel Masters' Matthew Wright. Despite this, Kiefer has been decent with his three-point shot and it's not like defenders are just sagging off him.
However, there's so much to like from Kiefer's long-range shooting right now. He is norming a tremendous 42% clip from the three-point line this season, which is already his highest since 2018, as seen in the table below:
KIEFER'S 3PT% (BY SEASON)
And it's not like Kiefer is just spotting up and waiting for someone to feed him the ball. He takes most of his three-point attempts off the dribble, which is obviously more difficult to pull off. The NLEX star has been very smart in coming off screens and launching the three-ball, and he is doing it in a variety of ways. 
During the Road Warriors' lopsided 94-75 win over the more-favorited Brgy. Ginebra San Miguel, Kiefer drained three of his seven attempts from deep. He launched one of those three triples in the first quarter after using a Raul Soyud screen then firing at the top of the key.
This was bad defense for Ginebra as Stanley Pringle didn't fight through the screen, not to mention Japeth Aguilar, who wasn't even in the vicinity when Kiefer started to rise up for the shot. It was an easy, practice-like shot for Kiefer and it's now up to the Ginebra defense to adjust in the next possession.
Pringle did adjust in the next possession. As you can see in the next video clip, Pringle and Aguilar tried to "ice" the pick set by NLEX big man Michael Miranda. By icing the Miranda pick, Pringle is essentially forcing Kiefer to the baseline, with Aguilar staying behind to block Kiefer's path towards the rim.
But seeing that there's already enough space between him and his defender, Kiefer knows that a simple jab step was all he needed to catch Pringle off guard. Swish.
Now that he has made his outside shots, the Ginebra defense would then start picking him up above the three-point line. That was surely the case as you can see Pringle defending Kiefer right after he crossed the half-court line. Kiefer would then use that to his advantage as he faked the use of the pick set by Don Trollano. He saw a wide-open lane for him, drove at full speed, and flipped that beautiful finger-roll over Aguilar.
This was more of bad defense than good offense, but it's great to see Kiefer making the right decisions with the ball.
Before his much-awaited move to Japan next year, this brilliance is Kiefer's parting gift to the PBA. Well, it's not really a parting gift at all as Kiefer is expected to be back in the local hoops scene after one year in Japan's B.League. But his individual growth is something that Filipino fans are still counting on, especially with the 2023 FIBA World Cup just around the corner. SJ Belangel's playmaking is showing off potential, but defenses will just anticipate his passes until he learns to create his own shot. Dwight Ramos has shown he can effectively navigate pick-and-roll situations, and maybe Juan Gomez de Liaño becomes more of a pass-first guard after his stint in the second division of the B.League. 
But Kiefer is still Gilas' best bet for the point guard position when 2023 comes, and it's perfect that he has now entered the peak years of his career.