Los Angeles Lakers superstar Anthony Davis is the team's catalyst to winning the championship, and his lowly 15-point outing in Game 3 will not get the job done.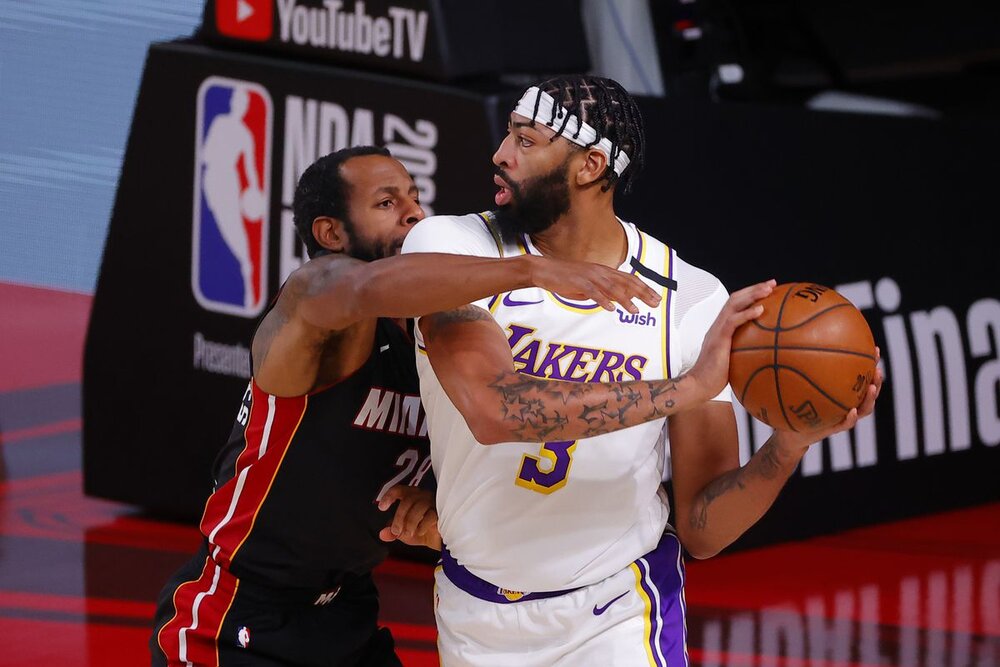 Anthony Davis tallied 15 points in Game 3 of the Finals, his second-lowest output in the 2020 NBA Playoffs. (Photo by Kevin C. Cox/Getty Images)
Jimmy Butler was right in saying the road to the NBA title still goes through LeBron James. However, the past three games have proven that Anthony Davis paves the way.
Through the first two games, the All-NBA First Teamer averaged 33.5 points, 11.5 rebounds, and 1.5 blocks per game, numbers that reflected how the Miami Heat had no answer for him on both ends of the floor. Every midrange jump shot, contested layup, and debilitating putback negated anything that Heat coach Erik Spoelstra threw at him.
In fact, his 15 points in Game 2 allowed the Lakers to keep a 10-point lead heading into the fourth quarter despite a 39-point third quarter outburst from Miami.
Game 3, however, provided a classic example of Davis being a victim of his own aggression. With enough game tape to assess the Lakers' tendencies, Miami drew two quick offensive fouls that sidelined Davis and doused any chances of an offensive outburst.
Jimmy puts his body on the line and draws an offensive foul on AD pic.twitter.com/kxeGsosb7c

— Joseph Beguiristain (@JoeBeguiristain) October 4, 2020
AD finished with 15 and made 67 percent of his field goals, but he was a non-factor as he had as many rebounds as turnovers (5) and looked tentative when on the court. The Heat took away driving lanes and lived with Davis the passer and not the playmaker. Switching back to man-to-man defense also allowed Miami to put coverage on Davis and prevented him from staying behind the zone for easy layups.
"I just have to be better on both ends of the floor," he said with regard to his Game 3 struggles. "Foul trouble, bringing the energy to the team — the team relies on me bringing the energy to start the game and when you pick up two fouls, guys come in earlier, things like that. So I just have to be better."
Laker fans rightfully had a cause for pause considering that the Heat were missing Bam Adebayo and Goran Dragic. The odds were heavily titled in their favor, essentially indicating that this was their title to lose.
James can and will always get his stats, and Miami's gameplan in Game 3 showed that they could live with LeBron's production; taking Davis out of the game was the way to get back into this series. Doing so (and gambling on a Kentavious Caldwell-Pope and Danny Green shooting dud) made the Lakers the Cleveland Cavaliers of 2015, 2017, and 2018.
Short closeouts. Show help. Protect the paint. It's what Miami has been doing all game. Watch Robinson stays in help when AD catches it to take away a driving lane. Swings to Kuzma closes shorts. Olynyk jumps to help in case he's beat. Rotation and another short close to Rondo. pic.twitter.com/ceCszgka7v

— Steve Jones Jr. (@stevejones20) October 5, 2020
A talent like AD, whose skillset is far more diverse than any big man in the league, needs only to be led to favorable spots to bounce back. Miami did an excellent job of taking out of his element and Los Angeles head coach Frank Vogel may need to tweak his lineup in response to Davis being frozen out.
Davis has been making his midrange jumpshots and he could use this to draw fouls off pump fakes or get his defender off his feet. While he is the clear first option on the low block, he can also take on the role of facilitator and utilize the cutting ability of Kyle Kuzma and Alex Caruso in order to keep the defense moving and give him opening in succeeding possessions.
Can we appreciate Alex Caruso for a second?

Watch AC ~15 seconds into this clip. He cuts just as Hill is clearing out of the lane to refresh his defensive 3 seconds. Absolutely perfect timing.

If LeBron sees that and gets him the ball that's a bucket and/or a shooting foul. pic.twitter.com/FyLuLcMNbn

— Cranjis McBasketball (@Tim_NBA) October 5, 2020
Compared to his running mate, James has had an easier time getting his shots and the Lakers can use this to their advantage. No one has the heft or athleticism (apart from a healthy Adebayo) to force LeBron to a particular side on the court and he can work from the top of the key or from the post. With the Heat utilizing man coverage, Davis can run through screens or get favorable positions in the post.
LeBron with the jump pass to AD pic.twitter.com/tgAXOv1GRs

— SportsCenter (@SportsCenter) October 3, 2020
On defense, Davis may need to be more cautious as Butler's aggression in the past two games could get him into foul trouble. "Hiding" him by pairing him with Dwight Howard and then bringing in Markieff Morris once Butler sits may be a possibility, but Los Angeles must weigh protecting Davis and utilizing him as an interior defender. James covering Butler may not be as ideal since Butler is no Jamal Murray in terms of size, so taking out his playmaking ability may be the next best option.
The Lakers have had success in defending by committee in their past playoff matchups and it may be wise to deploy it against a squad that has multiple playmakers in Butler, Tyler Herro, and, if they're available, Adebayo and Dragic. Majority of Butler's assists came from his drives that drew double teams, so the Lakers may want to be careful in putting heavy coverage on his drives considering he has a tendency of looking to pass even with this wide open lane.
Miscommunication from the Lakers on defense when Robinson screens for Butler. This is probably the cleanest look Miami has had all series and…Jimmy didn't take it. pic.twitter.com/iDbEuDjkg4

— Steve Jones Jr. (@stevejones20) October 5, 2020
Timely doubles and better help may negate the open shots that Butler's teammates get off his drives and having a day to go over the game film should help in ensuring future instances result in errant passes and transition baskets.
The Heat were punched in the mouth in Games 1 and 2, and they responded with a shot of their own on the Lakers in Game 3. Los Angeles faces a must-win situation in Game 4 considering that 2-2 would be favorable for Miami and the return of its key players.
Davis' production was sorely missed in Game 3 and while it did expose some areas that the Heat can take advantage of in Game 4, the Lakers themselves are not the type to take things sitting down. In fact, by the time you read this, they may have everything figured out.
"Trust me, we'll be fine," Davis said after Game 3.