With John Wall reportedly requesting for a trade, here are three realistic landing spots for the Washington Wizards star point guard.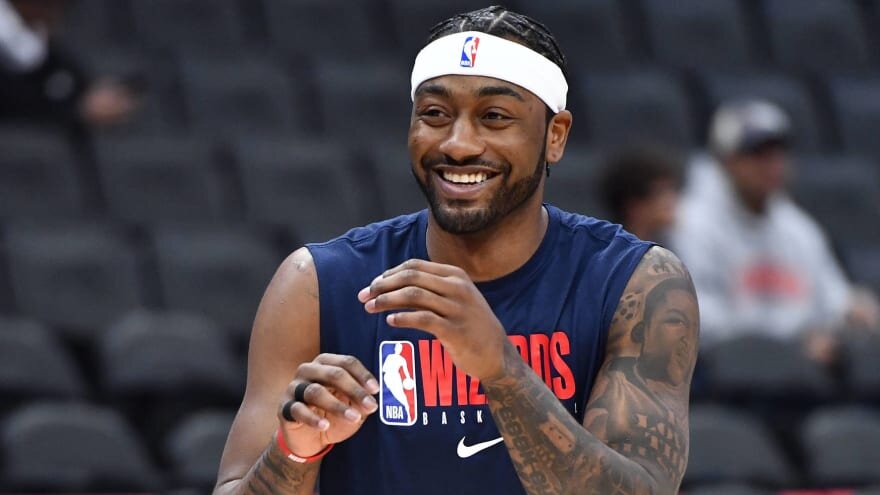 John Wall is ready to return next season. (Photo courtesy of Brad Mills/ USA Today Sports)
In 2017, the 30-year-old guard signed a four-year supermax contract worth US$171 million with the Wizards. However, the former Kentucky standout suffered a ruptured Achilles tendon a year after signing that lucrative extension, and last appeared for the Wizards in 2018.
Almost two years from his last game, Wall believes that he is ready to be back next season. The Wizards star has been recently seen working out with several NBA stars such as Brooklyn Nets superstar Kyrie Irving.
Recently, several reports about a potential trade between the Wizards and the Houston Rockets revolved around Wall and former MVP Russell Westbrook. While negotiations were suddenly put in stall, the Wizards star clarified that he wants to get traded.
As Rockets/Wizards talks on Russell Westbrook-for-John Wall stall, Wall has made it clear he wants trade out of Washington to happen, sources tell @TheAthleticNBA @Stadium.

— Shams Charania (@ShamsCharania) November 21, 2020
Wall is set to make over US$44 million during the 2021-22 season, and is currently 23 months away from his last game. It will be a big gamble to absorb the speedy guard's contract, but there are several teams who are in need of an All-Star level floor general like Wall.
Detroit Pistons
Derrick Rose and Blake Griffin will be on the move to make this trade happen. (Photo courtesy of Brett Duke/AP)
Wizards receive: Blake Griffin, Derrick Rose
Pistons receive: John Wall
Rose has been tremendous during his stint with Detroit as he posted 18.1 points and 5.6 assists last season. However, the youngest MVP's health will always be his main issue, keeping him away from playing heavier and longer minutes.
On the other hand, Griffin might not be as athletic as he was with the Los Angeles Clippers, but has produced numbers for the Pistons squad. The 2009 first overall pick averaged 22.2 points, 6.9 rebounds, and 5.2 assists, including a return to the All-Star line-up during his three-year tenure with the Pistons.
The Pistons recently signed several bigs such as Jerami Grant, Jahlil Okafor and Mason Plumlee in free agency. With Griffin's lucrative contract, Pistons might consider moving him and absorbing a much bigger contract, but for a much-needed position like a point guard.
Detroit badly needs a full-time playmaker. Absorbing Wall's contract will be a big risk. but it might come with a better result.
Chicago Bulls
Zach LaVine may take his talents to Washington with a John Wall trade. (Photo courtesy of Nick Wass/AP)
Wizards receive: Otto Porter Jr, Zach LaVine
Bulls receive: John Wall, Thomas Bryant
Bulls converted high-flyer Zach LaVine from his natural shooting guard position into the team's starting point guard. Lavine's stats drastically improved, making the two-time Dunk Champion an All-Star caliber player as the now 24-year-old star averaged 23.3 points, 4.6 rebounds, and 4.1 assists in his three-year stint with the Bulls.
Despite the emergence of the 2014 13th overall pick, Chicago is still far from seeing success from the LaVine experiment. The Bulls are yet to reach the playoffs and the future of LaVine with the team is up in the air.
On the other hand, Otto Porter Jr. reportedly will opt into his US$28 million contract that he originally signed with the Wizards before being traded to Chicago in 2019. Porter was a solid 3-and-D player during his stint with the Wizards. However, injuries limited the now 26-year-old into norming only 11.9 points, 3.4 rebounds, and 1.8 assists last season.
Wall can have a fresh start in Chicago while guiding their younger core of Coby White, Wendell Carter Jr, and Lauri Markkanen. Wall is easily one of the best point guards in the East when healthy, which will really benefit the younger players of Chicago.
Aside from Wall, rumors of a Bradley Beal trade has been circulating around the league for quite some time now, with several contenders expressing their interest. If the Wizards decide to move on from the Wall-Beal tandem and opt to trade their two stars, then LaVine might be a good acquisition for the team.
Indiana Pacers
Indiana star Victor Oladipo might also be on the move. ( Photo courtesy of NBAE/Getty Images)
Wizards receive: Victor Oladipo (IND), Markelle Fultz (ORL)
Pacers receive: John Wall (WAS), Aaron Gordon (ORL)
Magic receive: Malcolm Brogdon (IND), T.J Warren (IND)
Reports about Indiana star Victor Oladipo expressing his interest to play for another team surfaced in recent weeks, which the two-time All Star immediately denied. However, a trade involving the athletic guard might still happen soon. Just like the same scenario with the LaVine trade, Oladipo is another good option for the Wizards.
Indiana already has their budding star in Domantas Sabonis, and the acquisition of an All-Star point guard in Wall will drastically change the pace, and fast-track the progress of Sabonis. A Wall-Sabonis duo will probably be one of the fastest and deadliest combo off the pick-and-roll.
The Pacers can also acquire forward Aaron Gordon, who is actively being shopped by the Magic. The highflying forward can provide some versatility to the Pacers squad.
Pacers center Myles Turner is currently being linked to different trade talks. If the Turner trade comes in fruition, then Indiana will likely move Sabonis to center, while Gordon will start the power forward position with Wall as the team's main floor general.