No disrespect to the five-time All-Star Damian Lillard, but CJ McCollum is currently the most productive player in a Portland Trail Blazers uniform and the team's best bet for the MVP plum.
Blazers' CJ McCollum is norming 28.1 points this season. (Photo by Steve Dykes/USA TODAY Sports)
CJ McCollum has been eclipsing the 20-point average in the scoring column in the last five years, but he has never been selected to the All-Star game. That's how deep the backcourt stars list is in the stacked Western Conference.
McCollum is not even the Blazers' top player. That recognition goes to Damian Lillard, who has undoubtedly earned every accolade that he has collected. But with Lillard coming off a career-best season in which he averaged 30.2 points per game, opposing teams are doubling their efforts in marking him.
That paved the way for McCollum to feast off that attention for Lillard, and quietly put up an MVP-worthy start to the new season.
Elite shooting efficiency
It's very difficult to be efficient in your offense if you're a player who constantly takes his shots off the dribble. But McCollum is having his most efficient year so far, emphasized by a staggering 45% clip from the three-point line. McCollum has always been known as a good mid-range operator, but he is making a conscious effort of taking more three-pointers this season. He is taking 11.0 attempts from beyond the arc while draining almost half of it.
Moreover, it's McCollum's knack for hitting tough, contested shots like this that is further increasing his percentages. If you're Stanley Johnson, what more can you do to stop this ball from going in?
CJ McCollum and-one!#RipCity

Stream: https://t.co/Qw6YqQ11wx pic.twitter.com/AtDpeD31hc

— NBC Sports Northwest (@NBCSNorthwest) January 12, 2021
Willingness to close out games
Lillard is popular for his cold-blooded game-winners, but don't forget that McCollum has ice in his veins too. The 29-year old star did this masterful game-winner that sealed the Blazers' victory over the Raptors last night.
This angle of @CJMcCollum's game-winner from last night is too smooth

(via @trailblazers)pic.twitter.com/qXUqwNUfkt

— Yahoo Sports (@YahooSports) January 12, 2021
There's no doubt that McCollum has already established himself as one of the best shot-creators in the league, and his closing-out ability has been severely underrated. It's quite a luxury for the Blazers to have two deadly closers in the clutch, and the ability to escape and win grind-it-out contests will absolutely help them come playoff time.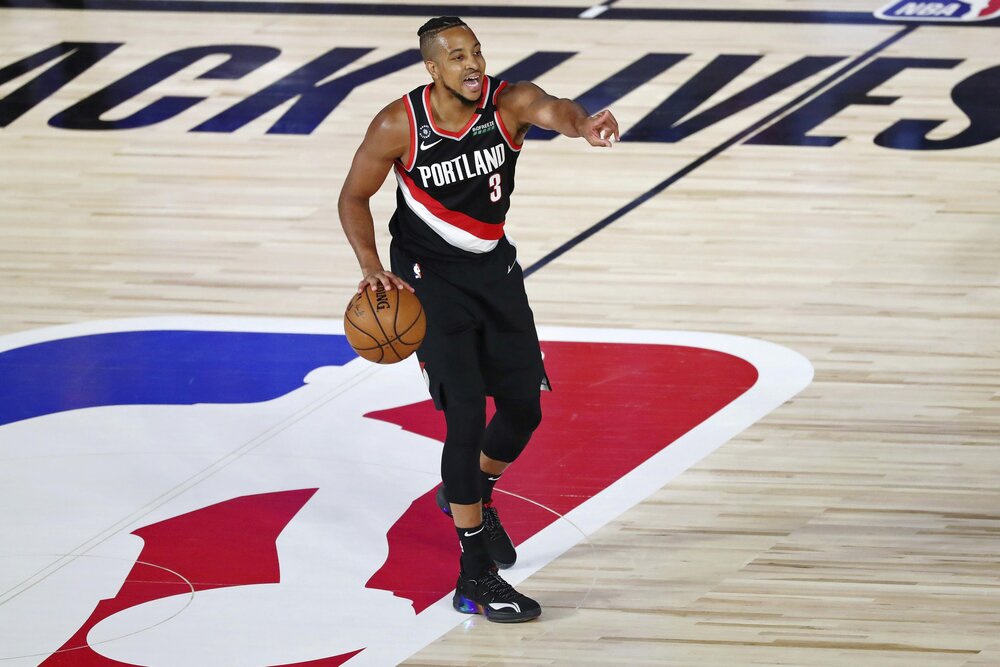 McCollum is also averaging a career-high 5.0 assists for the Blazers this year. (Photo by Kim Klement/AP)
Under-the-radar playmaking skill
The Blazers arguably have fielded their best roster in recent years, especially in terms of its depth on offense. Gary Trent Jr. is surprising a lot of people with his long-range marksmanship. Carmelo Anthony can still put up the buckets with the best of them. Robert Covington is a stellar floor-spacer. They still need more from the underperforming Jusuf Nurkic, but there's no doubt that the Bosnian big man has a potent inside-outside game.
All these have helped McCollum in the assists department as he is currently averaging a career-high 5.0 dimes, while only committing 1.1 turnovers per contest. That's some eye-popping ball-handling and decision-making, and should be one of the reasons why McCollum's name should be considered in the NBA's current MVP race.