A day after trade speculations swirled around his name, Golden State Warriors forward Kelly Oubre Jr. responded with an almost-perfect performance that saw him miss only two shots.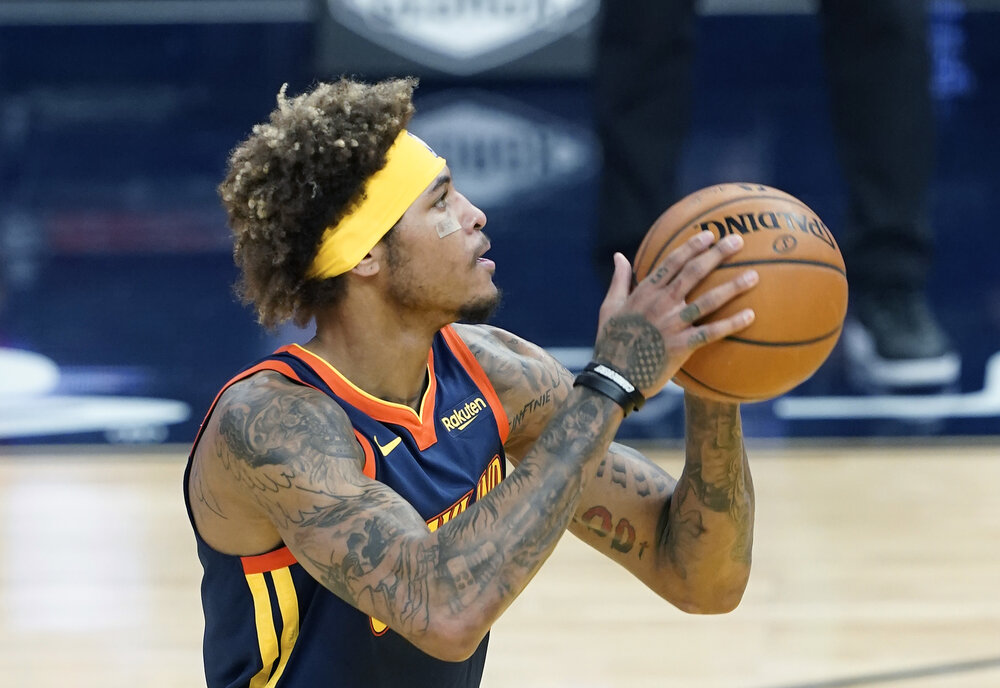 Oubre produced 20 points in the Warriors' win over the Timberwolves. (Photo by Thearon W. Henderson/Getty Images)
Just a day after his name got caught in trade speculations, Kelly Oubre Jr. shut down his doubters by putting up the best game of his young Warriors career. The lefty swingman missed only two shots on his way to 20 total points, then added nine rebounds, three assists, and two steals to his tally to help the Warriors hack out a convincing 123-111 victory over the Minnesota Timberwolves.
It was a great all-around night for the 25-year-old Oubre, an electrifying performance highlighted by this thunderous facial dunk over Naz Reid of the Timberwolves.
Simplesmente, Kelly Oubre Jr. na cabeça do Naz Reid.

O que vc me diz @CDrake49?pic.twitter.com/Iu4RoY0SxI

— Bust do Draft (@bustdodraft) January 28, 2021
Oubre, who is coming off a career-best year with the Phoenix Suns last season, is having a tumultuous start to his first stint in the Bay Area. He is shooting a lowly 21% clip from the three-point line, and his inefficiency on offense has been hurting the Warriors' flow on that end of the floor.
This was the main reason why Oubre's name circled in trade rumors yesterday, as reports say that he could be a centerpiece of a deal between the Warriors and the New Orleans Pelicans. Shams Charania of The Athletic recently reported that the Pelicans are now listening to trade offers for guards Lonzo Ball and JJ Redick, but it remains to be seen if their discussion with the Warriors will gain any serious traction in the coming days.
But with this kind of brilliant performance, Oubre should be the trust of his teammates and coaches. Warriors head coach Steve Kerr said that he is very proud of the resiliency that Oubre showed tonight, citing the fact that being involved in trade rumors is not easy for any basketball player to be a part of. (h/t NBC Sports Bay Area)
"The basketball part is the easy part. But packing up your family and leaving, getting injured, getting booed, or reading your name in trade rumors, those things are not easy. I was really proud of Kelly. He handled it really well."
— Warriors head coach Steve Kerr
As for the rumors that the Warriors could nab Lonzo Ball in exchange for Oubre, that kind of scenario shouldn't be enough for the Dubs to take part in. Lonzo is also struggling in his long-range game this season as he is only hitting 29% of his three-point shots. Getting a shooter like Redick could be a boost for the Warriors, but having him co-exist with Stephen Curry on the defensive end could be a liability that the Warriors cannot afford right now.
My bet is that if the Warriors make any drastic changes to their roster, it will be for another proven superstar. The fine play of both Andrew Wiggins and rookie big man James Wiseman gives Golden State added assets in a trade. But if they can't nab a true All-Star (like Bradley Beal, maybe?), then the Warriors front office will stay put for now.