Dribble Media's ZerJosh Serrano sat down with former Batang Gilas standout and new UP Fighting Maroons recruit RC Calimag as he opened up about dealing with the pressure that comes with being a son of a former PBA player, and why he wants to be an inspiration for student-athletes.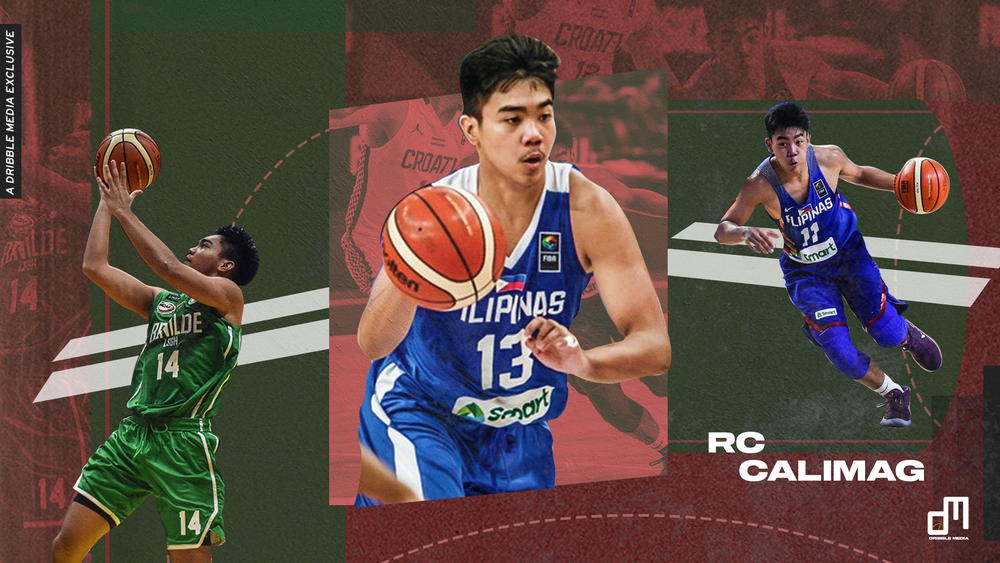 If you've been following the PBA for a couple of decades, there's no doubt that you still remember Ricky Calimag, the former San Beda Red Lion who was the 15th overall pick in the 2001 Draft. Calimag never made it to star status in the pros, but he carved a niche as a bruising 6-foot-5 combo big who can also shoot from long range.
Ricky may have already retired from the PBA, but the surname "Calimag" is still making waves in the Philippine basketball landscape. Ricky's son, RC, has finished his high school basketball career and has recently committed to playing college ball for the UP Fighting Maroons.
RC made a name for himself when he suited up for the Batang Gilas squad that saw action during the 2018 FIBA U-17 Basketball World Cup. But getting to that stage wasn't easy for RC, especially with all the criticisms and doubts that come with being a son of a former PBA player.
"Meron ako naririnig na kaya lang naman ako nakapasok sa team ay dahil sa influence ng father ko. Hindi nila alam na ilang beses din ako na-cut sa mga previous teams ko. But I have to keep on working. Iiiyak ko lang yung mga disappointments na yun. Pero after that, kukuha ulit ako ng bola at mag-praktis ulit."
— RC
Being a basketball player is not always as glamorous as many people perceive it to be. RC's father Ricky has the first-hand experience with that truth, along with all the ups and downs that he had to endure in the PBA. That was the main reason why he was hesitant at first in letting RC pursue a career in basketball.
"To be honest, he (Ricky) didn't want me to play at first. Ayaw niya kasi na ma-feel ko yung physical and emotional hardships ng basketball. We all know that basketball is a lifetime of conditioning and discipline. But my father eventually let me be the person I wanted to be. Decision ko na i-pursue ang basketball kaya sinusuportahan niya ako at patuloy na binibigyan ng motivation. "
— RC
To have a father who is a former professional basketball player is a blessing and a curse. It's a blessing because you know that he has already been where you want to be. You immediately have someone to look up to, and someone to get advice and guidance from when the going gets tough.
But the pressure that comes with it could also be too much to bear. That's something that RC has to deal with right from Day 1, and there's no doubt that he has already gotten used to it.
"My father already made a mark in the PBA. Nagtagal din siya doon. So right from the start, alam ko na agad na may pressure dahil dala ko yung pangalan namin. But that pressure made me work harder every single day. I want to prove to my doubters that they got it all wrong. Most importantly, if you love what you do, hindi mo naman na mararamdaman yung pressure na yun. So I just continue to have fun and strive to get better everyday."
— RC
RC, who finished his high school career as the main star for La Salle Greenhills, also opened up about the rigors of a student-athlete's life. He has to go through more or less eight hours of classes everyday, go straight to basketball practice in the afternoon, then finish tons of schoolwork when he finally gets home.
Calimag makes a move during a Gilas Youth game against the Japanese team. (Photo from FIBA)
That routine became even more exhausting when he committed to playing for Batang Gilas. But RC knew that representing his country's flag is like representing the dreams of the millions of Filipino hoopers all over the world.
"After practice with our respective mother teams, practice naman sa Gilas from 8 to 10 in the evening. Pagod ka na at minsan tinatamad ka na pumunta. But you never know when you can represent your country's flag again. Kahit na mahirap, dapat panghawakan mo lang yung commitment mo sa bansa. Alam namin na it's a big responsibility not just for ourselves, but also for the country as well. "
— RC
Now that he will be suiting up for a storied school like UP, RC aims to be an inspiration for aspiring student-athletes. He says that it is not just about what he can bring on the court, but also about how he can set a good example of balancing his duties as a player and as a student.
"I didn't just go to UP to play basketball, but I'm also there to study as well. Being a student-athlete is not easy. The skill of managing your time is not easy. But I'm not here to take shortcuts or take the easy road. By working hard on improving myself on the court and inside the classroom, I hope that I can inspire people around me. "
— RC
As he continues to work on improving his craft and creating a name for himself, RC still holds on to an advice that his father gave him. Having goals in mind is one thing, but acting on it and getting the necessary work done is another.
"Laging sinasabi sa akin ng father ko na huwag ko papalipasin ang isang araw na wala akong natutunan. Maliit man o malaki yung opportunity na mag-improve, kunin mo na. Take advantage of it. If you connect all these small steps, it will lead to bigger things. So, everyday dapat masasabi mo sa sarili mo na nag-improve ka."
— RC
This is an advice from his father that RC will forever be guided upon, and it's also an important lesson that he wants to impart to student-athletes like him.