LaMelo Ball's PUMA MB.01 has proved that PUMA is steadily gaining traction in the battle of the best basketball sneaker brands out there.
The PUMA MB.01 is Charlotte Hornets star LaMelo Ball's first signature shoe with renowned sneaker brand PUMA. With LaMelo gaining global attention as a first-time NBA All-Star this year, PUMA did not wait too long before releasing the first signature shoe of the Hornets point guard. The PUMA MB.01 made its debut with an all-red color scheme, but it has since released more colorways, including the "Queen City", which was the sleek silhouette that LaMelo wore during the 2022 NBA All-Star Game.
But of course, we know that you're here to check out how the shoe performs, and we'll give you just that. Read on below for a full performance review of the PUMA MB.01, LaMelo Ball's first-ever signature shoe.
MATERIALS
The PUMA MB.01 boasts its "disruptive upper", which is the 3D-printed design that you can see in the shoe's upper. The upper is made of textile mesh, a synthetic material that is supposed to be lightweight and breathable. However, the PUMA MB.01 does not offer a whole lot of ventilation, and it's not the lightest shoe either. The good news is that while it's not a very lightweight basketball shoe, it also does not feel bulky or clunky. Balanced is the perfect word to describe the shoe's materials in terms of weight.
The mesh upper is also very flexible, especially on the forefoot. We have to be honest though; the PUMA MB.01's upper is a little stiff on the first try, but you should not encounter any more issues when you break it in a few times. All in all, the textile mesh upper does not produce premium comfort, but it's enough to justify the affordable price tag that comes with it.
TRACTION
The traction performance of the PUMA MB.01 is one of its best assets. The secret lies in its non-slip rubber compound that gives you a great grip as you slide your feet. This non-slip rubber compound also boosts the outsole's durability, which is such a piece of good news if you're going to use the PUMA MB.01 as a go-to shoe.
The PUMA MB.01 also has a tight-knit pattern that performs excellently on clean courts, although you will discover that the outsole easily picks up dust when you play outdoors. You don't have to worry about this though, as the accumulated dust don't wear off the outsole and you can quickly wipe them away.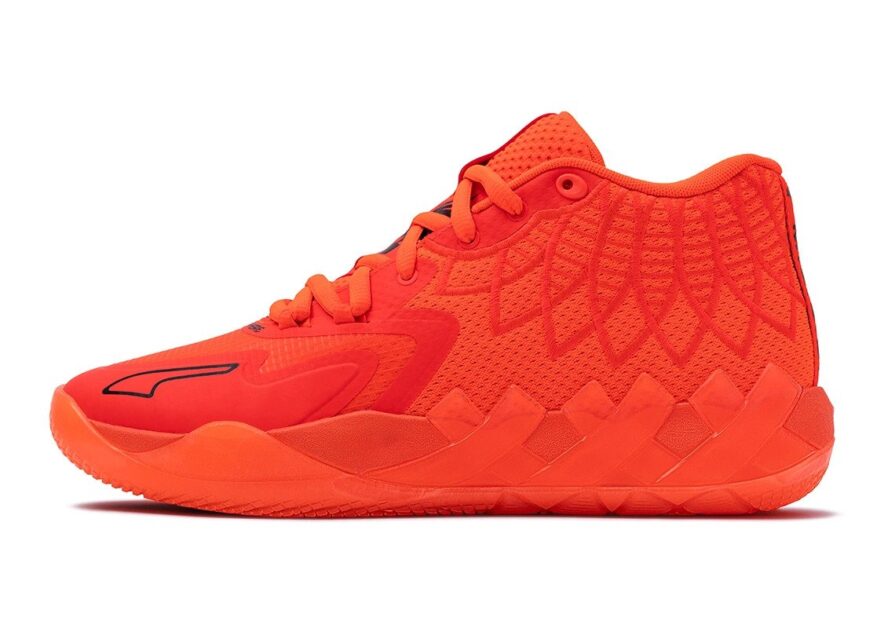 CUSHION AND SUPPORT
The star of the show is the NITRO foam, which PUMA's signature cushioning technology. PUMA came up with a very innovative process that saw them infuse nitrogen gas to their foam technology, which then produced the NITRO foam. The PUMA MB.01 uses a full-length NITRO foam on its midsole, giving it a soft feel and excellent responsiveness.
Moreover, the internal TPU technology on the PUMA MB.01 should give you a lot of lateral containment. This would absorb your weight when you move from side to side so you can be confident in moving laterally without something holding you back. The court feel is also adequate in this shoe, but you should not expect a lot of bouncability from it.
Lastly, the PUMA MB.01's tongue has a lot of padding in it, but not so much in the ankle area. Ankle support is comfortable but not that good as other outstanding basketball sneakers such as the Nike KD 14 and the Air Jordan 36. If you have ankle issues in the past and you want supreme protection on your ankles, the PUMA MB.01 may not be the best choice for you.
SIZE AND FITTING
One thing that we noticed in the PUMA MB.01 is that it has an excellent lacing system, so you'll find it easy to comfortably secure your feet. However, the PUMA MB.01 has a bit of a narrow toebox so if you're wide-footed, you might want to go half a size up. Before you buy any shoe, make sure that you physically try it out first so you'll know which size are you comfortable stepping into.
OVERALL RATING
The PUMA MB.01 is a great balanced basketball performance sneaker, and that is a perfect springboard for any debuting signature shoe. Cushion and traction are its best assets, although PUMA could have done better in elevating the pair's ankle support. Still, this is a reliable go-to shoe with its excellent impact protection and responsiveness, along with a traction that provides you with tons of grip.
The PUMA MB.01 nets an overall rating of 4.6 out of 5. If you're looking for a durable basketball performance shoe that you can rely on for a long period of time, the PUMA MB.01 is the right fit for you.
WHERE TO BUY
The PUMA MB.01 sells at a retail price tag of $125 USD, and you can buy it at PUMA.com or at your nearest PUMA outlets.