Under Armour will release 76ers superstar Joel Embiid's first signature pair, the Under Armour Embiid 1, later this month. Here is an in-depth analysis on what you can expect from UA's newest pair.
Joel Embiid's first signature shoe with Under Armour will be released later this month. (Photo courtesy of Under Armour)
After signing a 5-year deal with Under Armour in 2018, the 26-year-old center now joins Stephen Curry on the brand's list of NBA players with signature shoes. The Under Armour Embiid 1 was debuted by the three-time All-Star during the NBA bubble, and is set for release on September 18 in North America, with a follow-up general release on October 2. The Sixers center is now the 16th active NBA player granted with a signature pair.
Game Day! Excited to finally show off my @uabasketball Embiid One. Available 9.18 @underarmour pic.twitter.com/QqJmOhYn20

— Joel "Troel" Embiid (@JoelEmbiid) August 7, 2020
Also known as "The Process", Embiid gained popularity with his immediate impact with the Sixers after sitting out his first 2 seasons due to multiple foot injuries. He is known for his brute strength, which is common among centers, but he is also fundamentally quick and this gives him the upper hand when facing other centers. Aside from his excellent overall basketball skill set, his prominence increased due to his on-court antics and trashtalking.
Embiid has grown into an All-Star in Philadelphia. (Photo by Mitchell Leff/Getty Images)
Along with his co-star, Ben Simmons, the 7-footer Cameroonian led the Sixers to multiple playoff appearances. However, the Embiid-Simmons combo is yet to see any success in the postseason, failing to reach the conference finals even once. This playoffs, the Sixers played without All-Star guard Simmons due to a knee injury, and they found themselves getting swept by the Boston Celtics.
For some reasons, signature pairs of NBA big men sell less compared to those of guards like Curry or forwards like LeBron James. But Under Armour is looking to break that culture. Embiid's first signature pair underwent several experiments to provide new experience to sneaker fans and ballers.
Having said all those, here is a performance review of the new Under Armour Embiid 1.
Under Armour Embiid 1 features basic textile mesh uppers. (Photo courtesy of Under Armour)
MATERIALS
Under Armour Embiid 1 does not feature premium upper materials. Actually, it is somewhat lackluster for a signature pair. The shoe is tooled with basic, but fully-ventilated, open cell mesh uppers with skin fuse overlays which are thin just like in the Under Armour Anatomix Spawn 2019.
Despite its basic textile materials, the upper holds the foot firmly and it is well-ventilated to provide breathable experience. It is also supported by a TPU (thermoplastic polyurethane) wing mold attached at the forefoot for better grip and lock.
Under Armour Embiid 1's traction is built with strong rubber compound with radial patterns. (Photo courtesy of Under Armour)
TRACTION
The traction is built with firm and thick rubber which can probably perform well in any types of court, and can last long when being used outdoors. Its outsole design nods to Embiid's hometown and has a radial pattern which looks like a wider pattern of Kobe 9, so it is easier to clean when being used in dusty courts.
Due to its thick and firm rubber, it will provide good grip when maneuvering or shifting directions while running.
Embiid's first signature shoe has a combination of HOVR and Micro G cushion technology. (Photo courtesy of Under Armour)
CUSHION AND SUPPORT
Just like the Curry 7, the Under Armour Embiid 1 will feature a combination of the brand's most prominent cushion materials: the HOVR and Micro G. Despite having the same technology, the two signature pairs perform differently from one another. While the Curry 7 is stiff and firm, and cannot really provide a soft cushion since it is more preferred by Steph, the Embiid 1 performs the opposite since it gives a soft and comfortable cushion, which is expected from the HOVR and Micro G technology.
The midsole is engineered and loaded towards the rear. It has a tinier build on the medial side through the ankle with the Micro G. The heel portion is then made of HOVR technology. The whole cushion is built as one piece, which gives an impression of dual density of foams just like what Adidas has with the Bounce technology.
The pair is comfortable, and the TPU unit in forefoot adds lock and snug for stability. The cushion technology provides responsiveness and bounce which makes the shoes effective, especially for heavier and taller players like Embiid.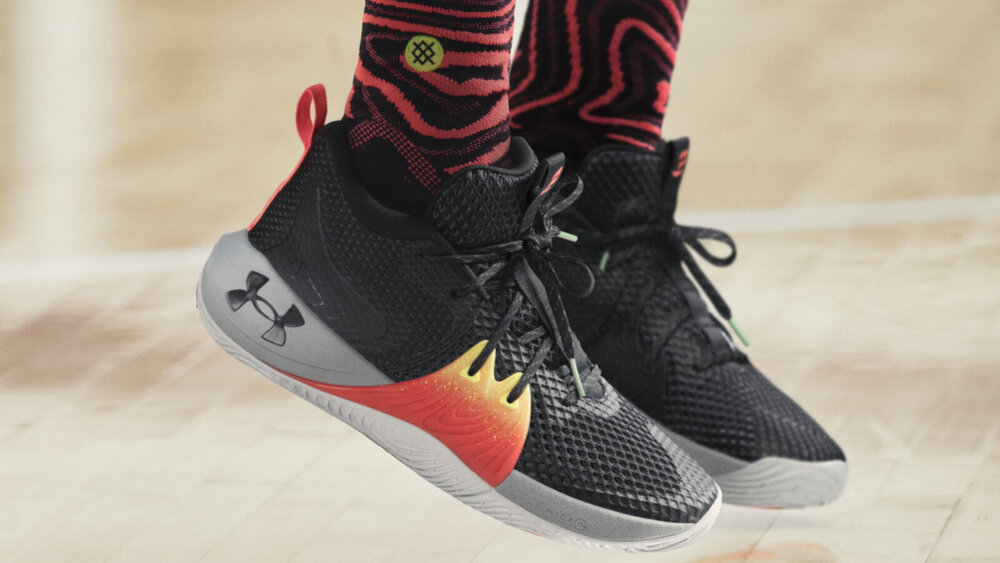 Under Armour Embiid 1 is suitable for players of any position. (Photo courtesy of Under Armour)
SIZE AND FITTING
The pair runs true to size, and it is also wide-footed-friendly. If the player prefers more tightness and snug feeling, the TPU unit in the forefoot can be adjusted easily since it is designed to mold the feet of the user.
OVERALL RATING
This Under Armour's move was intriguing. The designer, Reggie Wilson, was originally the man behind the success of Under Armour runners with HOVR technology. The lightness and the cushion of the runners he designed for the American brand were a great achievement, and now he applied those to his newest project.
Under Armour Embiid 1 might also spark the evolution of signature shoes for centers. Unlike the traditional heavy and bulky shoes for big men, this pair is actually lightweight, but strong enough to support the weight of the likes of Embiid. It resembles the likes of the Nike Hyperdunks in terms of performance.
While it is built for big men, it is also suitable for shifty guards, or basically even any other positions due to its lightness, ventilation and excellent cushioning system.
However, the brand can still improve the upper mesh materials with better technology. Nonetheless, despite its lackluster uppers, the pair gives the comfort, stability and ventilation any player desires of.
WHERE TO BUY
The Under Armour Embiid 1 will be available at selected Under Armour Stores with the price yet to be announced.