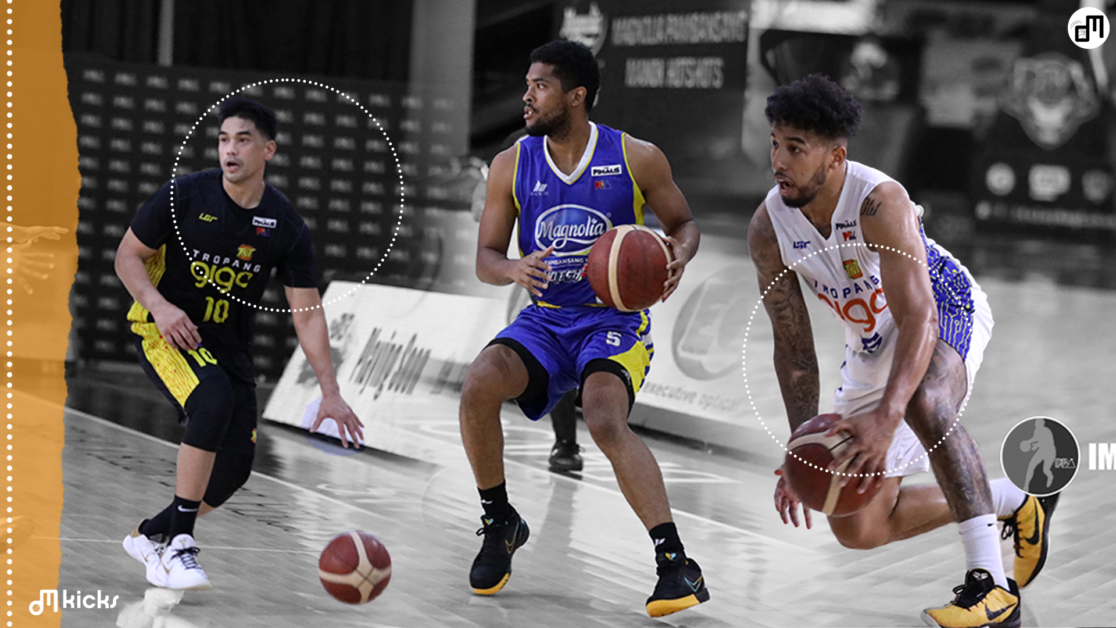 The Magnolia Hotshots wrapped up Week 11 of the PBA Philippine Cup with a huge win over its archrival TNT Tropang GIGA to avoid a 0-3 deficit in the Finals.
But before the much-awaited all-out battle in Game 4, let's take a look at the best PBA sneakers from last week and see if we finally have a clear-cut winner of this conference's "Sneaker King" crown.
5. Nike Kyrie 7 "1 World, 1 People" (Jayson Castro, TNT)
The former Philippine Christian University star might already be in the twilight of his career, but he is still "The Blur" that we all know. With his trail-blazing speed and dazzling game, Castro is legitimately gunning for another title to add to his already impressive resume.
Hailed as the "Best Point Guard in Asia" at one point of his international career, Castro is just two wins away from his 7th PBA title. Moreover, the 35-year-old guard has the golden opportunity to notch another title while donning Nike Kyrie pairs.
The Tropang Giga's mainstay has already been witnessed playing on various Kyrie pairs for quite some time, but this is actually his first appearance on our list — an underrated sneaker game, indeed.
During TNT's convincing win in Game 2, Castro laced up a fresh "1 World, 1 People" silhouette of Kyrie Irving's seventh signature pair. This Kyrie 7 pair has some resemblance with the highly-sought Nike Kyrie 5 "Spongebob" which was released back in 2019.
Moreover, the "1 World, 1 People" silhouette was inspired by Kyrie's advocacy for equality. Aside from his basketball wizardry, Irving is also known for being vocal when it comes to his principles and views about the world. Thus, the birth of the "1 World, 1 People" pack.
4. Nike Kyrie 7 "1 World, 1 People" (Mark Barroca, Magnolia)
Barroca is a mainstay in the Magnolia franchise and one of the few members of the grand slam team, which was known as San Mig Coffee back then.
Another parallel with Castro, the former FEU Tamaraw is also chasing his seventh PBA title and is out to prove that he is still one of the alphas in the league even at the age of 35. Comically, the 5-foot-10 guard also donned another Kyrie 7 iteration from the "1 World, 1 People" pack, just like Castro, but just in a different silhouette.
In Game 2, Barroca laced up the regal pink iteration of the Kyrie 7 "1 World, 1 People" pack. The pair's vibrant display of color blocks makes it stand out among the rest. It may now be available for below retail, but is still one of the most appealing Kyrie 7 silhouettes out there.
3. Zoom Kobe 4 Protro "Snakeskin" (Jerrick Ahanmisi, Magnolia)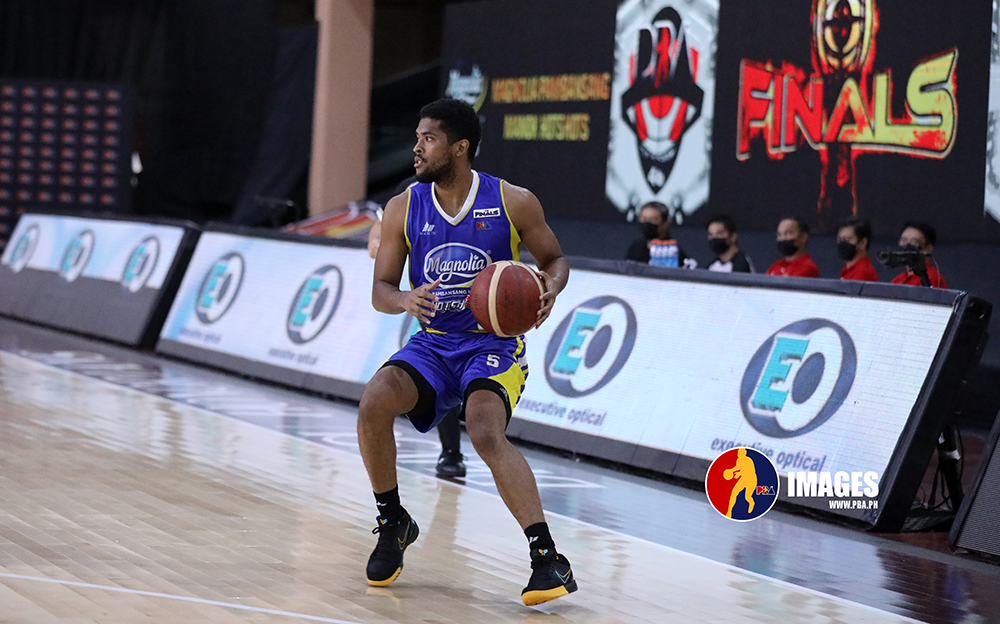 Despite an underwhelming start while donning the white and blue jersey of Magnolia, the former Adamson Falcon is starting to show some flashes of his outside shooting, and it is happening at the right time. Moreover, the younger Ahanmisi was predominantly known as a lethal shooter back in his Adamson days and even his shooting coach, PBA legend Ren Ren Ritualo, acknowledged his skills, so he is expected to evolve into a more noticeable shooter sooner or later.
But along with his potential as an excellent shooter in the pros, the 24-year-old's sneaker game is something that must also be put on notice. This is Ahanmisi's first appearance on our weekly list, and he did it with style.
In his Finals debut, Ahanmisi casually laced up a Zoom Kobe 4 Protro "Snakeskin", a silhouette which got its inspiration from 2016's "Fade to Black" pack that was originally made to honor the late great Kobe Bryant's retirement along with the embroidered Swoosh logo in teal and gold to commemorate the Charlotte Hornets and the Los Angeles Lakers.
Additionally, the Kobe 4 was first designed by Eric Avar in 2008 before reappearing in "Snakeskin" silhouette in 2019.
The Kobe 4 Protro "Snakeskin" is currently valued at PhP 18,000.
2. Zoom Kobe 5 Protro "Big Stage" (Ryan Reyes, TNT)
Reyes is another player that should already be in the twilight of his career but continues to prove that he still has a lot of gas left in the tank. The "Energizer" still has a lot of energy left to defend the best players in the league and is currently a vital defensive piece for TNT's title bid.
Moreover, along with the 38-year-old's unrelinquishing on-court energy, his sneaker game is definitely astounding late in the conference. After lacing up an iconic Zoom Kobe 4 "Wizenard" on his first appearance on our list a few weeks back, Reyes brought out another heavy sneaker artillery in the form of the Zoom Kobe 5 Protro "Big Stage".
This silhouette of the Kobe 5 Protro was released in August 2014 and got its name from Kobe's sneakers during the 2010 NBA Finals when he clinched his fifth and final title. This iteration carries the combination of "away" and "home" editions of the "Big Stage" along with borrowed elements from Bryant's "Parade" Player Exclusive silhouette.
The Kobe 5 Protro "Big Stage" currently sits at PhP 20,000.
1. Zoom Kobe 6 "Lightbulb" (Mikey Williams, TNT)
Best Player of the Conference? Rookie of the Year? Most Valuable Player?
People keep bringing up the 29-year-old rookie sensation's name in every discussion. Well, who can blame them? Williams has been spectacular all conference long and is one of the top contenders to win the BPC Award. Indeed, he is a major piece in TNT's current success.
But along with the individual awards he could potentially receive from this conference, the 2014 NBA D-League draftee is also the top contender to be named as DM Kicks' "Sneaker King" for this conference.
Williams continues to show how deep his sneaker game is while donning obviously the most valuable pair from this week's list or even from the entire segment. During TNT's heartbreaking loss in Game 3, the 6-foot-2 guard laced up a pair of Zoom Kobe 6 "Lightbulb".
This Lakers-inspired, snakeskin-textured silhouette was unveiled back in May 2011 as Kobe's "home" sneakers during the playoffs.
While the pair could still be purchased through legitimate online sneakers platforms, its hefty price is already an understatement. The Zoom Kobe 6 "Lightbulb" is currently valued at PhP 45,000.
---
GET MORE BASKETBALL AND SNEAKER UPDATES WHEN YOU SUBSCRIBE TO DRIBBLE MEDIA'S YOUTUBE CHANNEL!